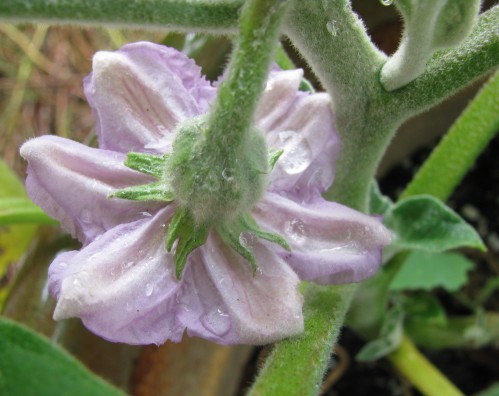 It was 75 degrees outside yesterday.  Tonight it will get down to 24, then swing wildly back upwards to 70 later in the week.  Which seems about right, for a North Carolina winter.
Though we had a freeze, technically, a couple of weeks ago, it wasn't really a hard freeze: the peppers and eggplant survived, the dahlia still blossomed.  Most of the tomatoes were okay.  But I realized this past weekend, that I was so over them—tired of the tomatoes that stubbornly refused to redden; the bell peppers that failed to grow larger than the size of an olive (a large olive, but still: hardly worth it).
The cowpeas and okra have been shedding their leaves for weeks: these guys know when to give up the ghost.  And so, I've been actually looking forward to a killing frost: the tomatoes were less than stellar this year, so it's time to move on, to regroup: I need better soil.
For Christmas, I've decided, I'll be asking for a load of mulch.  This winter I'll be spreading compost liberally, and in early spring amending the beds with blood and bonemeal.  I've cast about a cover crop of red clover seed into one sad, sandy bed, and other areas of the lawn where I don't want grass anymore; hopefully they'll grow this winter, enrich the soil, smother the grass, and die back in summer. That's the plan, anyway.  I haven't told Andy yet; last time I told him I wanted to expand the garden more, he told me, "Leave the lawn alone!" But it's a pretty pitiful lawn, what with no irrigation, and a soil consisting mainly of sand.
This past weekend I pulled out most of the remaining summer veggies—the ones, at least, that were dead already or not going to produce anything before the first hard freeze.  It felt cleansing.  I pulled up—surprisingly—a handful of sweet potatoes, too.  Some of them were not worth eating, and some of them had been eaten already—by the damned mole that plagues my yard.
In the meantime I'm tending to the cold-hardy veggies.  I've seeded a bed with kale, and set out transplants in others.  I have a whole flat of onions to plant, and the volunteer arugulas are holding steady at a stout three inches tall.
I made a potato barrel of sorts: a leftover black plastic pot, filled partially with broken twigs (hugelkultur: google it), dead leaves, and soil.  So far they've done well, nestled in an L on the south side of the brick porch (thermal mass!).  Tonight it's covered with a couple layers of old towels to try to keep the potato tops from frostbite.
So long, flip-flop season.  Happy fall gardening, from this corner of the earth!