There is a drama of birdly proportions going on in my front yard.  The crows are strutting around in the grass, searching for whatever it is they like to eat, some of them panting open-beaked already from the heat even though it is not yet 10 a.m.  The mockingbirds are admonishing them from a distance, perched on power lines.  One crow is bobbling on a branch of the neighbor's dogwood tree while two mockingbirds 'greech-greech' at him, and take turns dive-bombing.  In the war of birds, crows would be the infantry; mockingbirds the fighter pilots.  The crow hops to a lower branch of the dogwood, which makes the mockingbirds even more agitated; do they have a nest there?  There is quite a commotion.  I briefly consider going outside to yell at the crow but, since I'm currently braless and haven't finished my first cup of coffee, I reconsider.  And anyway, crow needs to eat, too.
The crow has moved on from the dogwood, but still the mockingbirds are going after him; there are three now, they've called for reinforcement.  Maybe it's just a territory thing?  The birds are an opera, and I don't have the program to tell me what act we're in.
This summer is shaping up to be a summer of fruits.
The peaches ripened and I savored them, allowing myself one every day until they were gone, and in case you are thinking that there is nothing as self-satisfying as a peach, plucked from a tree you planted & mulched & tended-to, eaten while still-warm from the sun, well, you'd be right.  If I were a peacock I'd fan my feathers out about it.
The blueberries are tapering off, while the figs have suddenly come in with a heavy, honeyed abundance.  It's hard to keep up with them; I haven't had much time for baking the last couple of weeks, and even less time for canning, so I may resort to the strategy I used last year: slicing the stems off and popping them straight into the freezer to deal with later (although in all honesty, I never 'dealt' with them, I just hid them in smoothies (Andy declares that he hates a fig and will never eat one, owing to some unfortunate experiences with fig newtons when he was a kid)).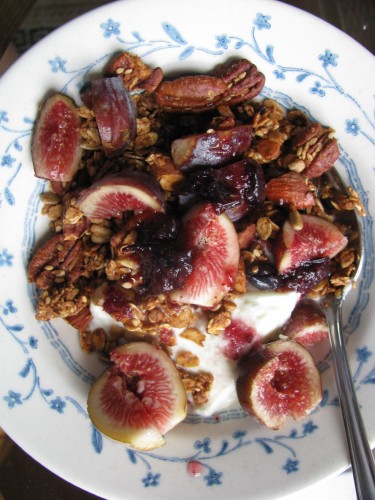 The 'winter' greens that went to seed (arugula, kale, mustard) have been sprouting where I scattered them; most of them low and slow, staying just an inch or so tall.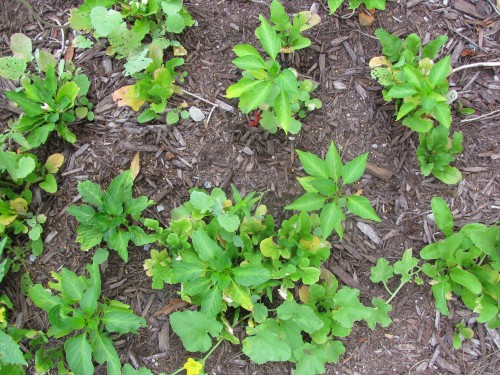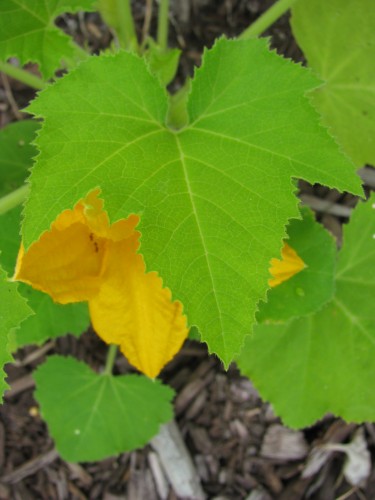 The squash are blossoming, but not setting fruit (setting vegetable?).  I'm thankful, at least, that the vine borers haven't taken them out—yet.
I've been getting handfuls of currant tomatoes, those sweet tiny gems, but nothing ripe yet from the slicers or paste tomatoes.  My mom and I both vow that we will get our gardens in earlier next year.  I say that every year, but gardening is like a drug in that way: you are always chasing that first high, though in this case my 'high' is the one summer I harvested baskets upon baskets of tomatoes, some of them as big as my face.
I have two melons; both of them appeared overnight.  In each case, I had walked around the garden a day or two before, observing and checking-in, and then!  next time, a melon appeared, already bigger than a baseball.  It keeps me on my toes, and makes me think of writing a children's book about the melon fairy, only I know that I won't because I would have the main character exclaim, at some point, "Hot shit!" about her magic melons, and thusly lose my G-rating.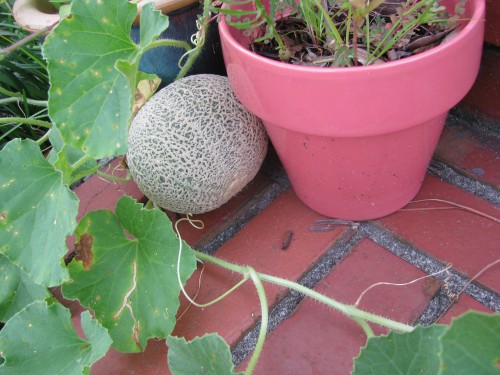 The cowpeas are two feet tall now; I had thought they would be creepers but they seem to want to be climbers.  I think I heard somewhere that the new growth of leaves and stems are edible, similar to spinach if cooked.  I just may try it; they are outpacing my tomatoes in terms of height.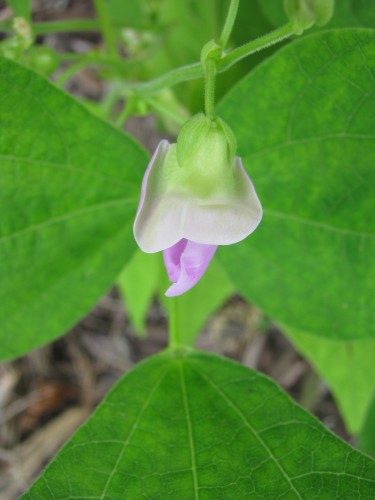 The green beans are blooming, their purple flowers like ladies' fancy hats, or like snapdragons.
The sunflowers are on a sad listing angle after the hurricane, yet they continue to bloom.  The black-eyed susans & coneflower are blooming, the dahlias still slow to spread their petals.
The flowers keep the garden abuzz in bees and such, and sometimes butterflies.  It means there is always something to look at, and it cracks me up to see the bees practically rolling in pollen, packing their leg-pouches full, ending up with yellow dust all over their bodies and enjoying every second of it.