Well, in the time since I've been meaning to write this (about a month), the peach tree has blossomed, leafed out, and set fruit.  I'm now set with the task of thinning out the fruit so that what remains will (hopefully) be a good crop.
The daffodils are mostly done blooming; the phlox, too, is on its way out, along with the azaleas.
The coreopsis and oxalis are blooming, their pops of orange and pink a good foil to the soft purple of the creeping phlox.
The irises are blooming, all frilled, lush and velvety.  Between them and the late-blooming daffodils, I've been cutting stalks-upon-stalks of flowers, and making fresh vases every week.  Which is about as close to Martha Stewart as I'm going to get.
The asparagus is coming up; the first best taste of spring was a slender stalk snapped straight from the ground and eaten raw: crisp, tender, vegetal.  The rest of it we roasted in the oven briefly with salt and olive oil.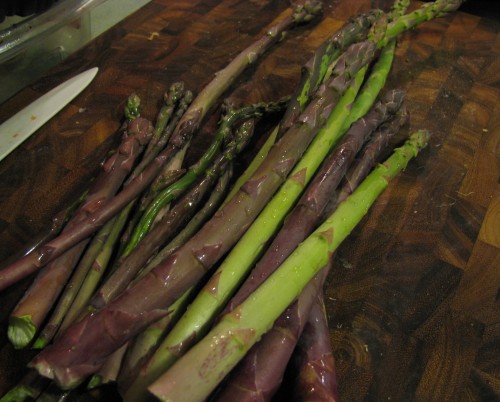 It took me all of March to get my cool-season veggies in the ground; I'm only just now starting to plant out tomatoes and peppers.  I waited too long to pot up my tomato seedlings—they grew leggy, and then one day of heavy wind wreaked havoc on them, ripping leaves and breaking fragile stems.  Luckily most of them have recovered (except, maybe, for the ones I overwatered, or forgot to water.  Mistakes like that always seem more painful early on, before the plants are in full-on grow mode.  Now, though, that I have more plants than I have time or space for them, I hardly remember all the ones that didn't make it).
I'm trying to grow more peppers this year; somehow I seemed to have forgotten how slow they are to grow but how useful they are in the kitchen, and how much I'd like to have them homegrown, cut up and waiting in the freezer for the winter months.  So!  Bell peppers, this year! Hopefully.  One thing I didn't have trouble with at all this year were hot peppers.  In fact, I have more than I know what to do with and so have been foisting them off on unsuspecting friends.  I'm not even sure what kind they are, just that they are spicy and will be making their way into batches of hot sauce this summer.
My sweet potato slips became infested with—something.  Mealybugs, maybe?  At any rate, in typical lazy fashion I ignored it, thinking the plants could outgrow it, or fight it on their own, or that maybe—hopefully—it would just go away after a while.  It didn't, so now the sweet potato slips are in quarantine beside the kitchen sink, where every day I examine them for invaders, and squish tiny bugs—they remind me of miniature trilobites (8th grade science class, anybody?)—with my fingernail or the tip of a toothpick.
The garlic is growing well, with occasional outer leaves turning yellow.  It will be time to harvest soon, which I'm thankful for as I'm out of garlic, and I need that space in the garden for summer veggies.  There are no scapes yet, but I've got my eye out for them.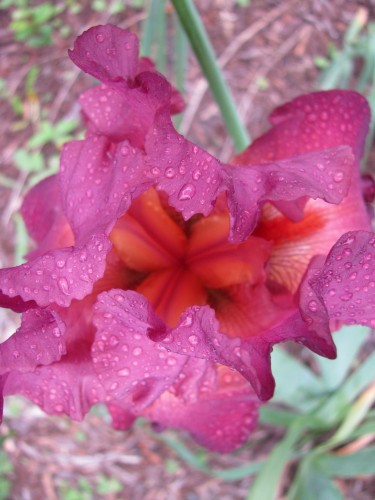 The potatoes have sprouted and are now a few inches tall.  I've been spraying them with homemade 'deer-away' spray (garlic, eggs, hot pepper) to try to keep the deer from eating them.  I had thought the green parts of potatoes were poisonous, but apparently the deer didn't get that memo.
I planted a thornless blackberry vine two years ago.  Each year, where the vine tips touch the ground they root and grow another plant.  So where I started with one, I now have five.  I have a sneaking feeling that I ought to transplant them, or at the very least put up a trellis and impose some order before they take over the garden, but in reality I will probably just let them do their thing.  The vines are blossoming now but I'm being realistic and not expecting more than a handful of fruit.  Last year I harvested only three berries from them.  Three!  Maybe even five.
If I had a motto for my garden, it would probably be this: Low expectations, high hopes.  But maybe also: I'll weed next week.