My friend Heather studied abroad in Seville for a year when we were in college.  Her host mother, Julia (pronounced: 'Hoo-lee-a')(or maybe it was Julieta?), spoke only in Spanish to her and also told Heather that she was her favorite of all the host students she'd ever had, which was quite possibly true.
In contrast, my host mother when I studied abroad spoke only in English to me and made no bones about the fact that she was only hosting students so that she'd have enough money to remodel her kitchen–as in, the very day the term was over, and I asked if I might be able to stay for another week or two she replied, "Oh, sorry, the carpenters are coming tomorrow and it will be too busy.  Safe travels!"
The only other thing I remember Heather telling me about her time in Spain was that at one point she was making earrings and selling them to people at the downtown plaza, which is to say: she had some balls on her, and was fairly fluent in Spanish.  This served us all well a couple of years later on a weeklong girls' trip to Panama, during which Heather accidentally ended up with a Panamanian boyfriend. (He pronounced her name 'Heden,' and apparently did not understand the workings of the answering machine, instead leaving her long messages that went: "Heden?  Heden?  Alo, Heden, puedes escucharme?" or something like that.)
I once left Heather waiting at the Barcelona train station at night for over an hour; we were supposed to meet her there and bring her back to the hostel with us, but instead of leaving in a timely manner to meet her train, my friend Laura (pronounced: La-oora) and I decided to open another bottle of wine and play our 8th straight game of Gaudi Memory. (Sorry, Heather!)  She forgave us once we gave her some wine and let her in on the Gaudi Memory game.
And she also gave us this recipe, courtesy of Julia.  And I have to tell you friends: this is the lentil stew recipe to end all lentil stews.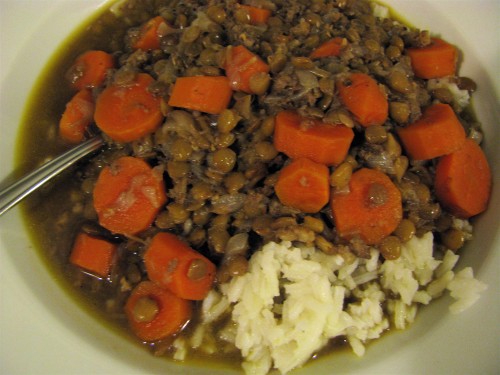 I usually make a double batch of it (mainly because the lentils and sausage both come in 1 lb. sizes, so it's easier to just double the recipe than it is to try to eyeball a half bag of lentils) and freeze several quarts.  Then the next time we need a quick dinner we just defrost the lentils, serve with some rice and a salad and–Blammo! we're kings of the kitchen again.
I've made it once using actual chorizo, and other times with hot sausage (the kind in the plastic 'chub' rolls; sorry for having to use the word chub) and it's equally good both ways.  Don't skimp on the red wine–it's what makes this stew so-much-more-than-just-another-lentil-stew.
In case you're thinking that this recipe should be relegated to humble everyday-food, I've cooked this for dinner guests before, and it was a big hit.
Lentejas con Chorizo (Lentils with Sausage)
1/2 lb. chorizo (or regular hot sausage), removed from casing (if it comes in a casing)
1 onion, diced
4 carrots, peeled if desired and chopped into bite-size pieces
10 cloves garlic (yes, really!)
4 c. chicken or vegetable stock
1/2 lb. lentils

1/2 c. red wine
salt and pepper to taste
Brown the chorizo or sausage in a large pot over medium heat, breaking it up into small pieces as you go (like you're cooking ground meat).  Add the onion, garlic and carrots, and cook, stirring occasionally, until onions begin to soften. (I usually don't drain the sausage fat off, because fat=flavor, but you could drain some of it if it seems like too much for your liking).
Add the red wine and stir.  Add the stock and lentils and bring to a boil. Stir well, then reduce heat to low.  Cover with a lid and cook 30-40 minutes, or until lentils are tender.  Add salt and pepper to taste, if needed.  Serve over rice, if desired.  Freezes well.