I don't know what, exactly, to say about the following cauliflower recipe, except that it is very, very good.
My friend sent it to me in an email, with only the comment, "I sent this recipe to my mom and thought you might like it too.  We made it last week and it's awesome.  I used fresh cauliflower but I'm going to try frozen next time."
Any recipe that is sent unbidden to both mother and friend must, it stands to reason, be fairly good.
So the next time cauliflower was on sale, I picked some up so I could put this recipe to the test.
But in typical fashion, we could not leave well enough alone.
No.  We had to add some garbanzo beans for protein, curry powder for kick, and serve it over brown rice to make it a full meal-in-a-bowl. (The original recipe is just a vegetable side dish).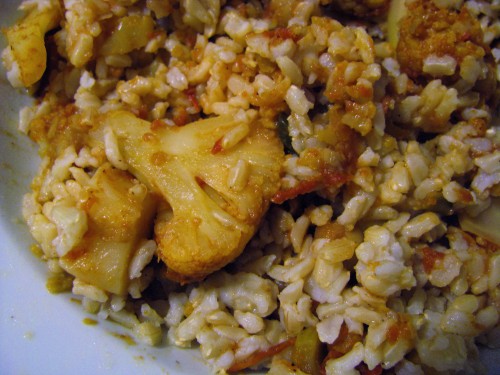 We've made this three times in the last couple of months and—testament to its goodness—Andy does not groan in agony when I tell him that this is what's for dinner.  Again.
And that's all I have to say about that.
Braised Cauliflower with Tomatoes and Garlic
2 Tablespoons olive oil
1 head cauliflower, cut into bite-sized pieces
1 14-oz. can diced tomatoes, with juice
4 cloves garlic, finely minced or crushed
1/4 teaspoon red pepper flakes (optional)

2 Tablespoons minced fresh basil (or 2 teaspoons dried)

Salt and pepper to taste
Optional: 2 14-oz. cans garbanzo beans, drained; 2 teaspoons curry powder (more or less to taste)
In a large saucepan, heat olive oil over medium heat.  Add cauliflower and cook, stirring occasionally until beginning to brown on the bottoms, about 6-7 minutes.
Add garlic and stir.  Cook for 2 minutes or until garlic is fragrant.
Add diced tomatoes with their juice, and an additional ¼-1/2 cup water to prevent scorching.  Add red pepper flakes or curry powder if using(I don't recommend using both, unless you like lots of spice).  Stir and cover with a lid.  Cook over low to medium-low heat for 15-20 minutes or until cauliflower is tender, stirring occasionally and adding more water if needed.
Add salt and pepper to taste and garbanzo beans, if using.
Add basil and stir to combine [Note: I wouldn't recommend adding the basil if you're going the curry powder and garbanzo bean route.  But do as you will.]

Serve over brown rice as a main meal, or as a vegetable side dish.
[I think if you're adding curry powder & garbanzos, cashews or chopped peanuts and cilantro would also be nice additions, but this is just a suggestion].