For three years now I've been walking the dog on the same path through the woods.
For three years we have walked through a litter of leaf and pine-straw, the seasons melting together like butter; the chorus of frogs in summer, the hushed early-darkness of winter.
And for three years I haven't really noticed the woods, not really: they've been merely a blurred brown backdrop that we've clobbered through, stopping occasionally to sniff (the dog) or tie a shoe (me).
But this year I've been paying better attention: noticing, in spring, the one tree with clusters of white flowers arranged in a way that made me hope it was, perhaps, a mulberry; noticing, in June, the patch of wild blueberries, knee-high and with powder-blue fruit.
If it weren't for the noticing, I wouldn't have remembered that the tree I saw two weeks ago drooping with tiny black fruit was the same tree I thought was perhaps-a-mulberry in spring.  I wouldn't have come home to research it (i.e. google 'tree with small round black fruit') and, when I researched it, I wouldn't have remembered the shape of the leaves (oval and edged with tiny teeth), or the texture of the bark (grayish-brown and semi-smooth; reminiscent of my mom's Yoshino cherry tree), or how the flowers hung in racemes (the technical term I learned via 'research').
If it weren't for the noticing, I would have never known what a wild black cherry tree looks like, or that its fruit is edible.  I would probably have never known that they existed at all.
Once I knew what it was, I began seeing them everywhere—five, six more along the same path, two more in the overgrown thickets between houses.
I think that the art of noticing is a practice I've cultivated through gardening, that gardening is as much about noticing as it is about sowing & harvesting.  That is, if you don't notice the flea-beetle holes in the eggplant leaves, or the frass below the stem of a squash, or the yellow veining of a cucumber leaf, it's all too easy to lose the whole crop, to let pests & disease spread.  Likewise, if you don't notice which varieties of vegetables are most productive, or best-flavored, then you set yourself up for garden mediocrity, year after year.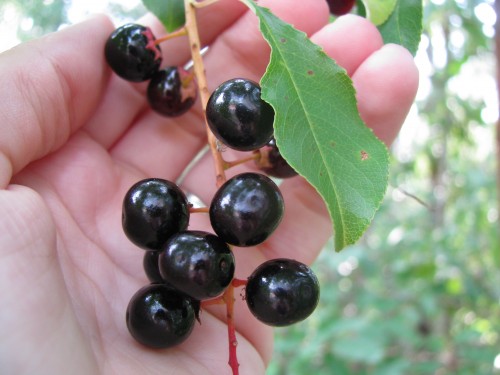 And I guess what I mean by noticing is: taking note.  My Uncle Bert has a notebook for this; I started one, too, but can't seem to remember to sit down once a week (or even once a month) to jot things down.  I suppose my camera and occasional 'Garden Snapshot' serve that purpose, although I do really prefer the physicality of a notebook to the ephemera of a computer; I like something I can take a gluestick and colored pens to and leave sprawled out on a table without worry of spilling tea or breakfast on.
Once I knew about the wild cherries, I began to harvest them.  I noticed that one of the trees bore fruit in tighter clusters than the others, making it so much easier to pick.  That is the tree that I think I'll be taking cuttings from, and seeing what takes root.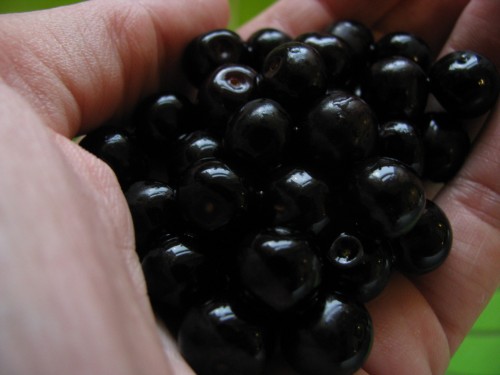 Wild cherries are full of anthocyanins, the antioxidants in deeply-hued veggies that are so good for us.  Which is not such a surprise considering their blackish-purple tone, or that the juice it makes is a shade much deeper than even red wine, or the fact that your hands & kitchen will look like a murder scene after picking and processing them.
I turned my wild cherries into a simple syrup; just a shot of it in a pint glass of seltzer turns the whole thing crimson; with a bit of lime and some rum, it's the perfect end to a late-summer evening.
Wild cherries are not as sweet as cultivated cherries; they have a slight bitter undertone to them, similar to a cranberry.  Let's call that 'complexity.'
I would be remiss here, if I didn't warn—like every other site I consulted—that the leaves and the pits of the wild cherry are full of cyanide (or more specifically, a cyanogenic substance that converts to cyanide during digestion), so don't eat them.  I mean, it seems like common sense that one would NOT eat cherry pits, or cherry tree leaves, but I guess I ought to mention it since everyone else has.  They made such a big deal out of it that I was fairly certain that I was going to poison myself accidentally somehow, by perhaps inadvertently cracking the pits in my food mill, or something.  I'm here to say I'm still alive. But still: don't eat the wild cherry pits.  Or the leaves.
If you are new to foraging (and I'll admit it, I am), I'd say it's best approached with one part bravado to two parts caution.  Do your research first to identify the plant, and spend time noticing it: when does it flower?  When does it fruit?  What color do the leaves turn in autumn? Any chance you could be mistaking it for something else?  The cherry laurel, for example, has leaves nearly identical to the wild cherry, and produces small black fruits the same size, and at the same time, as the wild cherry.  But cherry laurel fruits are poisonous, they are dull instead of glossy, and slightly oval and pointed at one end.  Once you're reasonably sure you've correctly identified your plant/fruit and are ready to harvest, I'd also advise you to sample just a small amount the first time you eat it, just in case you have an unknown allergy.  Like I said, two parts caution.
And don't eat the pits.
Wild Cherry Spritzer
1 oz. wild cherry simple syrup (recipe follows)
juice of ½ lime
1 oz. light rum, if desired
8-10 oz. seltzer or club soda
Combine all ingredients over ice in a pint glass, adding the cherry syrup last as it tends to settle.  Stir and serve.  Garnish with a mint sprig if desired.
Wild Cherry Simple Syrup
adapted from this recipe
2 c. wild cherries
water to cover
4-6 T. sugar
Put the cherries in a pot, and add just enough water to cover.  Bring to a boil, then reduce heat and simmer 20-30 minutes until the fruit has released most of its juices.  Run the mixture through a food mill or another method of straining out the pits (cheesecloth, strainer, jelly bag, etc.).  Add sugar to taste, stirring to dissolve.  Store covered in the refrigerator up to two weeks.  This makes about one cup.  If you're feeling ambitious, you could probably also can this as a juice, using more water and less sugar.  Consult a reputable canning book for a recipe for berry juice and process accordingly.  You'll probably also need to have A LOT more cherries to make the canning process worth your while.
Another way to use wild cherries would be simply to soak them in liquor—rum, brandy, or vodka—for several weeks, and then strain out the fruit.