Well, we had one briefly glorious day of sunny-and-70-degrees; now it's going to rain for the next 3 days straight.
I don't know what the weather is like where you are, but maybe you're in need of a good laugh.
If so, I'm here to help…
There's this essay by Alice Bradley about a home-haircut gone awry which made me laugh out loud:  "Only it turned out that hair is NOT LIKE CAKE, and if it is, it is a very confusing cake with all kinds of dimensions and difficulties I had not considered."
Speaking of cakes, I found this one in the break room at work the other day: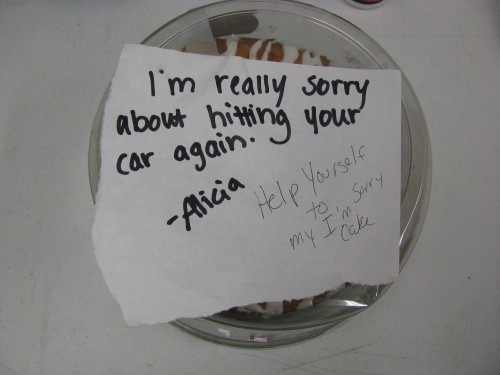 This is much better than what I usually find in the break room: issues of 'Practical Welding Today' magazine, and my coworkers 'lunches,' which most recently was a Saran-wrapped packet of—in my coworker's words—'pieces of meat.'
But maybe you're not into cake, or on a diet, or disgusted by 'pieces of meat,' or watching your sugar intake.
If so, can I interest you in some Haribo sugar-free gummy bears?
Apparently they cause terrible, um, gastrointestinal distress (i.e. diarrhea). Andy and I spent an evening reading the reviews out loud…and I laughed so hard that I a)couldn't breathe; b) cried; and c) snorted unbecomingly.
[If you are the kind of person who is not interested in reading about other people's bodily functions, you should stop reading right now.  However, if you are that kind of person, I'm not sure what you're doing at this site.]
Some of my favorite reviews:
"My butthole sneezed."
"I was a prisoner to my own body, weeping like no man should ever be allowed to weep like."
"There was stuff coming out of me that I ate at my wedding in 2005."
And the review titled:  'I am so sorry Mrs. (teacher's name),' which goes: "Same story as all of the above only here is MY ending.  …and I was never asked to send snacks to my daughter's class again."
Or "My mistake for not reading the review prior to purchasing these."
My hands-down favorite review, though, has to be the 'Do not bring to sporting events!' which includes the following gems:
"I know what taking a giant poo feels like.  I also know what vomiting feels like.  I can now successfully say that I know what it is like to vomit out my butt."
And: "I am screaming, my son is now crying, he thinks he is witnessing the death of his father.  I can't even assure him that I will make it."
Just read the reviews.  Even if they aren't all true, they are still at least HILARIOUS.
Happy snort-laughing, all.