Write a note like this to someone you know.
Sign your own name, though.  And also probably don't give it to a coworker, I'm pretty sure that would be considered sexual harassment.
Recently added to the list of features our dream home would have: a pond.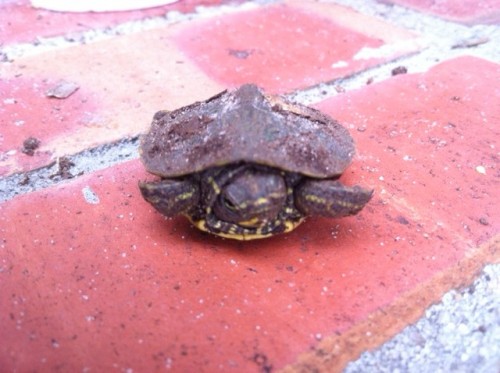 So that we could keep baby turtle as a pet!
Seriously, this guy was smaller than the palm of my hand (and I have pretty small hands, just ask Andy, who likes to wonder out loud how I made it this far in life being so small and weak-limbed).  My mom and I had much discussion over whether he was a water turtle or not.  He's totally a water turtle, look at his arms!  He's trying to swim across bricks!
I don't really have much to say about this except: the moss; the light!  Late September's slanting rays are here again.
And finally: I wouldn't mind having this as a tableau in my backyard:
But on the other hand, I dunno, you'd kinda be staring at lions' butts all day and wondering where your bird flew off to.
These pictures all would have been so much better if I hadn't taken them with a phone.  For the record.