Ever since I started baking bread, I had wanted to learn how to make baguettes—those lovely long loaves with crackly crusts and pillowy middles, perfect foils for soups or cheeses or satisfying as-is: a soft, steaming interior with softened butter, or without.
I had thought that baguettes were something you had to come to like a Zen-secret: years of study and intuition, a meditation on the feel of flour and the heft of dough.  I had thought they would be difficult.
Well!  I'm here to tell you that they're not—not really—as long as you don't mind a bit of planning ahead the night before to get your starter started.
The other thing, I think, that helped me succeed was that I had baguette pans (thanks, wedding registry!) which help support/shape the loaves (in addition to giving them nicely dimpled little bottoms). I can't speak to how they turn out without using special pans, but I'm sure they would be mostly fine.
The original recipe calls for misting the loaves with water while baking them, but if you have ever tried this, you may have realized that when you repeatedly open your oven for lengths of time to spray water over the dough, you kind of let all the heat out of the oven, and you don't even create enough steam (steam=crispy crust) to make it worthwhile.
Another technique calls for pouring boiling water into pans placed on the floor of the oven; I haven't had much success in creating steam with this method, either.
The method I employ instead is to simply fill a juice glass about half full of water, and, as soon as the baguettes go into the oven I kind of just toss the glass of water sort-of onto the baguettes, but also sort-of (mostly) onto the floor of the oven.  It sizzles and steams in a very gratifying and immediate manner.
The only difficulty with this method of making steam, I've discovered, is making sure your husband is not in the room when you do this, otherwise he is going to say, "Oh my god, what are you doing, you're going to burn out the element."
Well, the jokes on him, because, while I do understand what the oven element is, I fail to grasp the nature of how, exactly, it works, beyond: It heats up.  So!  I blissfully continue to throw glassfuls of water into the oven since, not knowing the physics of how it works, I also do not know the physics of how it breaks.  This is a win-win situation, as far as ignorance and baguettes are concerned.
I have yet to burn out the element, for the record.*
*This is not meant to be taken as legal assurance that you, also, will not burn out the element.
The dough-making is a bit of a process.  The first few times I made this recipe I did it on a weekend so I could be sure I was doing the whole mixing-rising-forming-baking within the recommended time frames; nowadays, the bread is made around what works for my schedule, which means that I often make them on weeknights because I can.  It goes like this: the night before, mix up the starter.  In the morning, add the rest of the dough ingredients and stir.  As soon as you get home from work, shape the dough into loaves.  Let them rise for about an hour while you walk the dog/prep dinner/pay bills/do dishes/fix lunch for tomorrow/etc. Then bake, then eat!
Baguettes are in the rotation so often now that I leave the recipe card on the counter behind the mixer (the only other recipe card to earn this distinction is the one for pizza dough).  We usually use them to make a sort-of Jersey shore sausage/peppers/onions hoagie (or whatever they call it up there) which are sooo delicious, I can't even tell you, wherein the onions and peppers are cooked so long that they are meltingly tender, but anyway, I'll give you a recipe for that later, someday.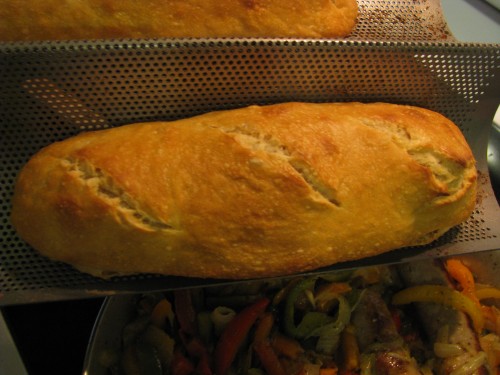 Baguette Recipe
Adapted from the King Arthur Flour Baker's Companion
For the starter:
1 ¼ cup all-purpose flour
1/8 teaspoon yeast
2/3 cup water
Mix together.  Cover and let sit overnight.
Then add:
2 ½ cups all-purpose flour
1 ½ teaspoon yeast
2 teaspoons salt
2/3 cup water
Mix together until well-blended, 2-3 minutes.  The dough should be slightly sticky and not 100% smooth, but able to sort of form itself into a ball while kneading (if using bread machine or stand mixer—it would probably be too sticky to knead by hand).  Cover and let rest several hours.
Form into 2 baguettes and let rise on floured baguette pans (or other baking pan) about 1 hour.
Preheat oven to 500°.
With a sharp knife, quickly cut several slits into the loaves.  Put the pan into the oven and throw in 1/3 to ½ cup water to make steam.
Reduce oven to 475° and bake 20 minutes.
Let cool as much as possible before slicing.