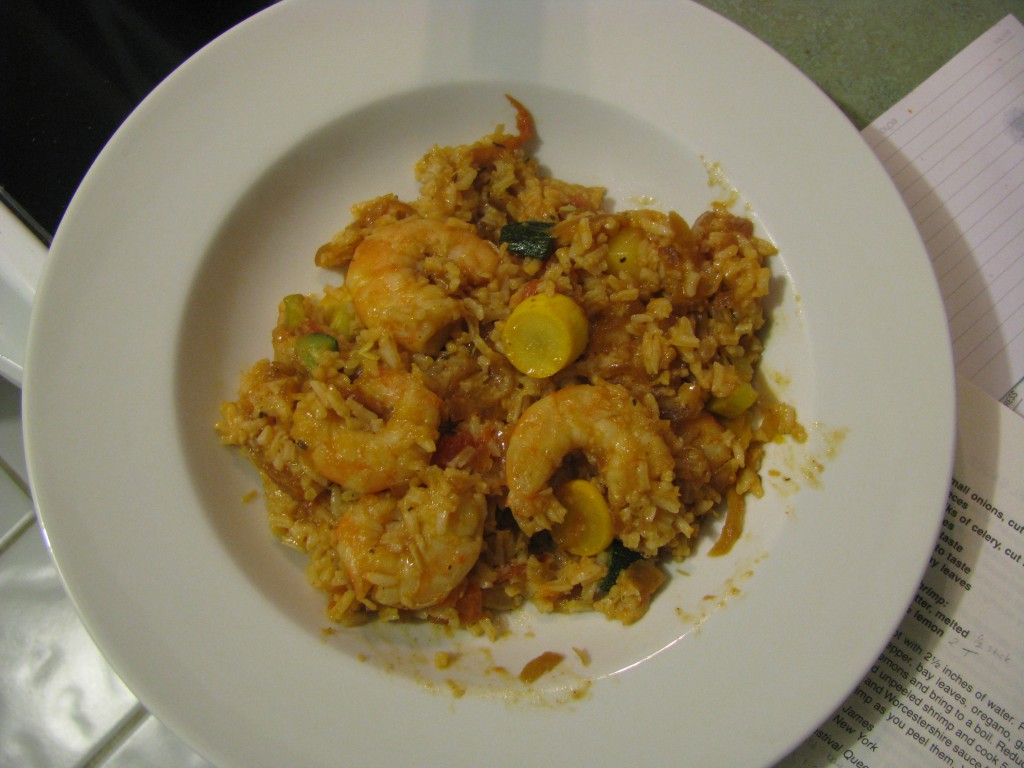 This may come as no surprise to most of you, but I am a sucker for a good deal.
So a few weeks ago when the grocery store had wild-caught east coast shrimp for $5.99 a pound, I had to get some.
Now, if you are even the least bit squeamish, I urge you to never buy head-on shrimp, regardless of how good a deal or how local it may be because, well.  Have you ever seen a head-on shrimp?  The long antennae, the large black eyes that stare at you accusatorily?
Don't say I didn't warn you that your dinner will be looking at you as you cook it.
So I got these shrimp, and then I wasn't quite sure what to do with them.
They sat in the fridge for a couple of days until we knew that we had to cook them.  Or else.
There is one cookbook that I always turn to when I want to cook some seafood but need inspiration: Seafood Secrets.  I went in search of it, to see what kind of secrets it could offer me for the accusatory shrimp, only to…not find it.  Apparently it was one of the cookbooks that had not yet made the migration over to My Guy's house.  And I was getting worried about this shrimp problem and the lack of trusted recipes to flip through, especially since the cookbooks that I own fall into either the 'Vegetarian' or 'Baking' categories, neither of which can offer any help with raw, accusatory shrimp.
Luckily, what I did have on the shelf was A Cook's Tour of the Azalea Coast, a community cookbook by the New Hanover-Pender County Medical Society Alliance, which my mom will gladly sell you a copy of.
Now, a good way to tell how authentically Southern any community cookbook is is to look at the salads section find out how many of the salads contain either Jello or marshmallows.  Bonus points are given if there are at least two recipes containing both Jello and cottage cheese.  On both of these accounts, A Cook's Tour does not disappoint, with over half the 'salad' recipes calling for Jello, five containing mini marshmallows, 2 calling for Cool-Whip, and 2 recipes with both Jello and cottage cheese (the lime Jello version of which I have fond childhood memories of).
I trust this cookbook, partly because so many of the contributors' names are familiar, but also because this is one of my mom's 'Go-to' cookbooks.  The squash casserole and the cranberry cream salad she makes for Thanksgiving both come from this cookbook.
So I thumbed through the seafood section, to see what could be done with the shrimp.  Most of the shrimp recipes sounded tasty but unfortunately I didn't have the time for some (Gulf Coast Crepes) or the ingredients for others (Masonboro Gumbo).
What we went with was Shrimp Tom Jones.
Simple, flavorful, and calling for a dip made of melted butter.
Now, after having cooked the shrimp in the Tom Jones style (basically, boil a bunch of herbs and vegetables in a pot and then cook the shrimp in it and then discard the vegetables) I'm going to suggest that you do something entirely different, that will save you much time and be well worth it flavor-wise: sauté the shrimp in the pan with your sauce, and then mix the whole shebang with some rice and a bland-ish vegetable (we used leftover cooked zucchini & yellow squash).
Boom, dinner.
Shrimp Tom Jones-ish Recipe
1 pound shrimp, peeled
½ stick (4 Tablespoons) butter
2 Tablespoons Worcestershire sauce
1 Tablespoon Old Bay Seasoning
1 heaping Tablespoon horseradish (not the cream-style kind)
3 medium fresh tomatoes, diced
1 onion, chopped
2 cloves garlic, minced
2 Tablespoons lemon juice
salt and pepper to taste
2 cups dry rice, cooked according to package directions
Melt the butter in a large pan over medium heat.  Add the onion and cook, stirring occaisionally, until softened.  Add all other ingredients except rice, shrimp, and lemon juice.  Cook until tomatoes have softened.  Add shrimp and cook until pink on both sides.  Add lemon juice and salt and pepper to taste.  Stir together with rice.