I wasn't going to write about this rice because, as I was making it, I didn't think it was going to be that great.  I wasn't thinking it would be bad, mind you—just not great.
Which is why I didn't take any photos of it except for the finished dish.
But once it was made and I took a spoonful to taste—well, then I took another spoonful.  And another.
For testing purposes, you know.
And then I stood there over the stove eating straight out of the pot.
That's how freakin' good it was.
This is one of My Guy's recipes which is oft-requested by his mom, and now I know why.
It's dee-licious, and deceptively simple.
At only five ingredients: rice, mushrooms, onions, stock, and butter—let's not forget the butter—20 minutes and two pans, it's definitely something I'll be making again and again.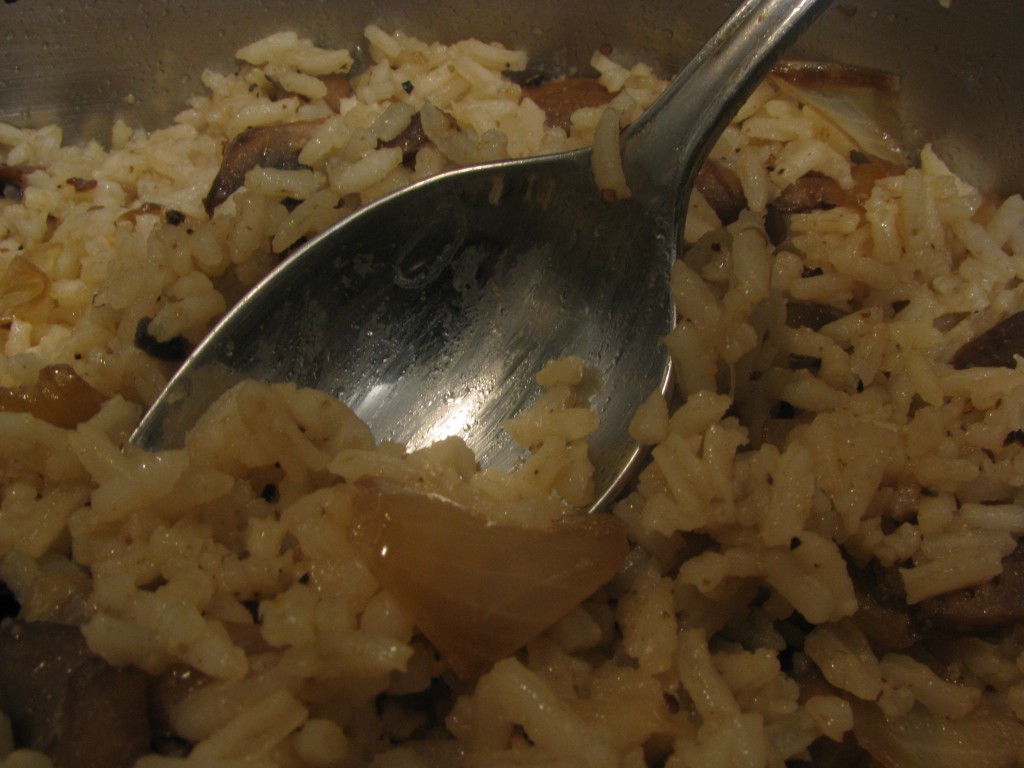 The flavor reminded me a lot of the Lipton mushroom rice (or is it Knorr now?), that salty $1 baggie that was such a staple of my college days.
Except in this case you can actually pronounce all of the ingredients.
We made a double batch of this, as it was meant to end up at a Christmas party potluck.  But it didn't.  Let's not talk about that.
Mushroom Rice Recipe
2 cups white rice
4 to 4 ½ cups vegetable or chicken stock (use however much liquid your rice calls for)
12 ounces fresh mushrooms, chopped
1 large onion, chopped
6 Tablespoons butter
salt and freshly-ground pepper to taste
1 teaspoon 'Better than Boullion' mushroom or beef flavor (optional, but highly recommended)
In a large pot, heat stock to boiling and add the rice.  Cover, reduce heat to low and cook for 15-20 minutes until done.
In a large skillet, melt butter over medium heat.  Add mushrooms and onions.  Cook, stirring occasionally 10-15 minutes until onions and mushrooms are softened.  The butter will clarify and the browned-butter bits will incorporate into the mushrooms.  Add the boullion, if using, or salt.
When rice is done and mushroom mixture is softened, add the mushroom mixture to the rice and stir to combine.  Add salt to taste and plenty of fresh-ground pepper.