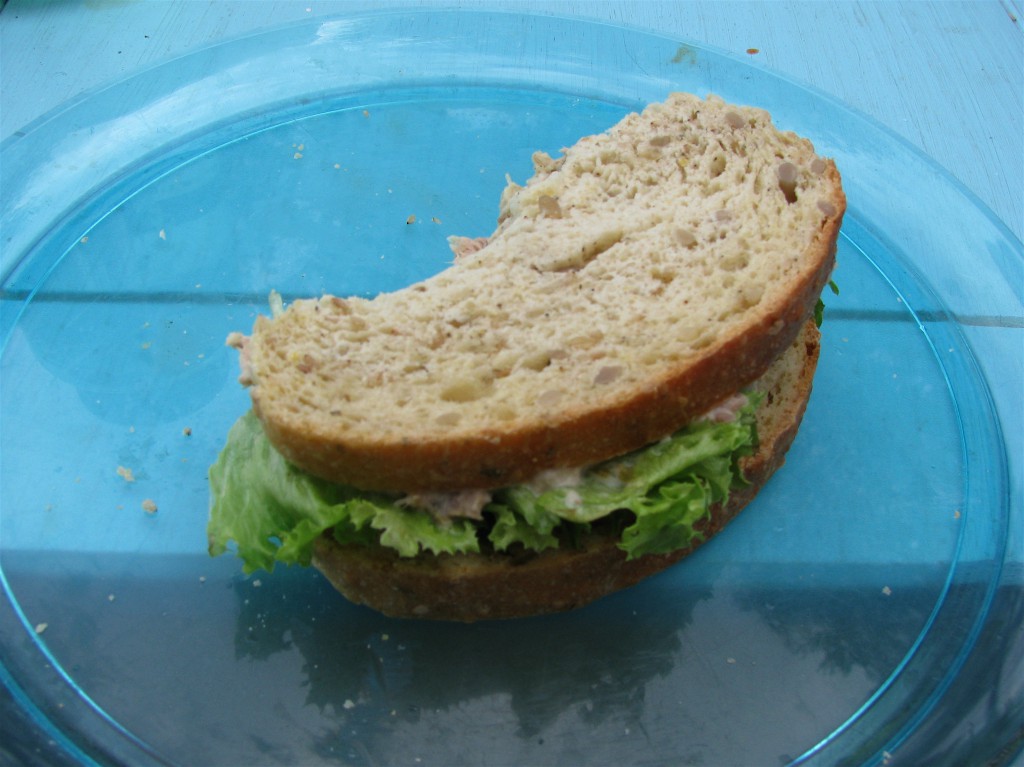 Listen: we all know that the best part of Thanksgiving dinner is the leftovers, right?
The day-after turkey sandwich smeared with mayo and cranberry sauce, the green bean casserole mixed with stuffing, the mid-morning snack of sweet potato casserole.
Now, I don't know about you, but for me the 'perfect bite' of Thanksgiving is thus: turkey, stuffing, cranberry sauce.
If only, I pined, I could combine that ultimate trifecta into a day-after sandwich, without it being such a carb-bomb.  You know, if only I could take the stuffing and somehow turn it into sandwich bread.
Luckily for me, someone did: King Arthur Flour.
This makes for a rustic, hearty-but-not-heavy sandwich bread, flecked with golden cornmeal and studded with sage and toasted seeds.   i.e. Thanksgiving stuffing, in bread form.  i.e. the perfect bread for turkey sandwiches.
Incidentally, I made this for the first time during spring, or maybe summer–you know, non-Thanksgiving-time–and in case you were wondering it's also great with tuna salad.  Just in case you tire of turkey, or if someone uses all your leftover turkey to make this horrifying-sounding casserole.  I mean, just read the ingredients list.  It sounds like Thanksgiving threw up into a casserole dish and then someone topped it with cheese.
I recommend this bread instead.
The recipe calls for nonfat dry milk and instant potatoes, but I'm sure you could substitute regular milk (by swapping out for equal amounts of water) and prepared mashed potatoes (again, reduce the amount of water you use).*  Or you could try it without the potatoes altogether and see how it goes.  And who knows?  If it turns out to be a disaster, just cover it all up with mayonnaise and cheese and call it a casserole.
The King Arthur folks say that you can use this bread to make your actual stuffing but to that I say, man, that is just so much work compared to opening up a bag and adding water.  But hey, what is Thanksgiving without spending two days freaking out in the kitchen?
*I've made this bread since, and used it for stuffing, without adding the milk or potatoes, and cooking it in a free-form loaf on a baking pan.  And it was just fine.
Stuffing Bread Recipe
from the King Arthur Flour Baker's Companion 3 cups all-purpose flour (or substitute part/all whole-wheat flour) 1 1/2 teaspoons salt 2 teaspoons sugar 3 Tablespoons vegetable oil 1/4 cup cornmeal 1/3 cup potato flakes (instant mashed potatoes)(optional) 2 Tablespoons nonfat dry milk (optional) 2 teaspoons instant yeast 1/4 cup sunflower seeds 1/4 cup toasted sesame seeds 2 teaspoons poultry seasoning or ground sage 1 1/4 cups water Combine all ingredients and mix and knead until smooth and supple, adding additional flour or water if needed.  Let rise, covered, 1 hour. Form into a loaf and transfer dough to a greased loaf pan.  Cover and let rise another hour, or until it has crowned 1 inch over the rim of the pan. Bake at 350 for 35 minutes until golden brown.  Remove from pan and let cool on a rack before slicing.