Remember last year, when I went through a "let's cook nearly every recipe from The Splendid Table's cookbook!" phase?  No?
Let me jog your memory.  The Splendid Table's gingerbread.  Pan-crisped deviled eggs.  Green Bean Gremolata.  Gingered Yams.  Ginger-caramel shrimp.  White beans with garlic and rosemary.  Fettucine Alfredo.
Well, eventually I accumulated enough fines that I decided I ought to take the book back to the library and give everybody a break from the 'basilandfig does the Splendid Table' recipe show.
But I think it's been long enough now for one more—just one more.  It is so delicious that I promise it's worth it, and I've been meaning to tell you about it for about a year now.
Full disclosure: I've also been meaning to make it again for nearly that long but I've been putting it off for the following reasons: peeling the shrimp.  And marinating overnight.  It's a lot to overcome, I know.  But I made My Guy peel the shrimp so, hurdle cleared.
And maybe you are better at planning ahead than me and the overnight marinade isn't a problem.  If that's the case, you are magical and I must learn your secrets.  How?  How do you know what you'll be eating the day before you eat it?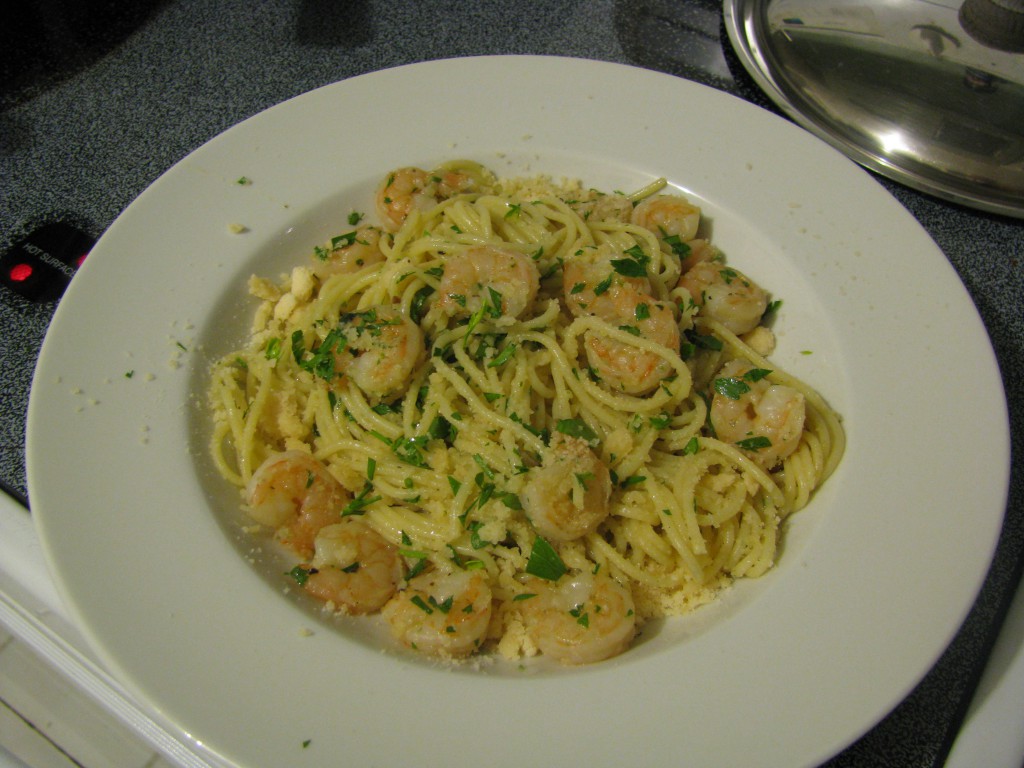 When we made it the second time, we failed to plan ahead and didn't marinate the shrimp until a few hours before cooking.  It was still pretty good, but not as great as I remembered it.  So plan accordingly, if you're up to it.
The other thing that TST recommends is to serve it over rice (which is more authentic) instead of over pasta (which is more 'Red Lobster').  We've tried it both ways and I have to say: go with the rice.  It seems to do a better job soaking up the flavor.  The garlicky, buttery flavor.
I've increased the quantities from the original, largely because we loooove garlic around here, but also because I most often have a 2-pound bag of shrimp on hand rather than 1 ½ pounds (I would feel ashamed at buying pre-packaged frozen shrimp except I have no shame).
Shrimp Scampi Recipe
adapted from The Splendid Table
2 pounds shrimp, peeled
½ cup olive oil
1 ½ Tablespoons lemon juice
12-15 garlic cloves, minced or crushed
¼ teaspoon salt
¼ teaspoon pepper
For cooking:
4 Tablespoons butter
½ cup dry white wine
5 Tablespoons lemon juice
3-4 Tablespoons minced fresh parsley
In a large bowl, mix together shrimp, olive oil, lemon juice, garlic, salt and pepper.  Cover and refrigerate overnight.
To cook:  In a large saucepan, melt butter over medium-low heat.  Add shrimp and wine.  Cook, stirring occasionally 3-4 minutes, or until shrimp is pink on both sides.  Remove from heat and stir in lemon juice and parsley.  Add salt and pepper to taste, if needed.  Serve over rice.  Garnish with parmesan if desired.