The summer after my junior year in college, I traveled around Europe with my friend Daneen.  We went to Greece and Italy and a smattering of other central- and eastern-European countries, but most of our time was spent in Italy & Greece.
In Italy, we made our way down the boot.  First Venice (pigeons! disgusting! tourist trap-y!), then Rome (pope-y! gelato-y! homemade wine-y!), then Naples and Amalfi, then to whichever city it was that had the ferry to Greece.
That was a long time ago now, and most of my memories of it are hazy (because my god, how many cathedrals and paintings of fat baby-angels can a person see?).  But what I do remember is Naples, because that was where I ate the best pizza of my life (and also other reasons).
The other thing that comes to mind when I think of Naples is this: the garbage.  There was, for some reason, an ongoing garbage strike.  I don't know how long it had been going on (weeks?  months?) but it was long enough that there were piles upon piles of garbage bags lining every street; in some places piled up four feet tall, and in some places  so many that they clogged the entire sidewalk and people had to walk in the street.  It was summer, and it stunk.
To make matters worse, the only hostel (that we knew of) in Naples was full.  The guy who answered the door (and who we did not quite trust) made a phone call and directed us to his friend's hostel down the road (and possibly out of town?).  Rather than trust him and try to navigate seemingly complicated directions and public transportation, we decided to bag Naples entirely and head to Amalfi.  But first we were hungry.
Near the bus station (bus stop?  Like I said, memory=hazy), there was a restaurant with a wood-burning brick oven and at least a page of its menu devoted to pizzas.  We ordered two–a pizza margherita and something else–and I cannot convey to you how delicious they were.  They were so delicious that we nearly re-thunk our decision to bag Naples, so delicious that they nearly redeemed the whole city–a city that was trash-filled, stinking, and had no vacancy.  Also? This was a city where a lady yelled at me on the bus.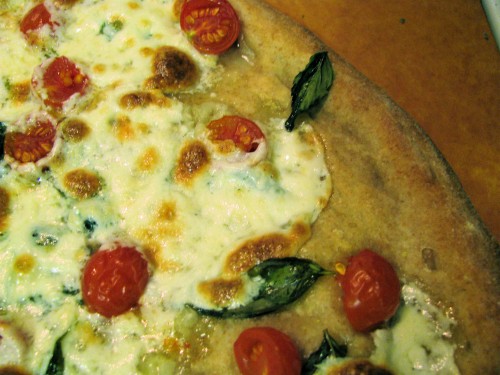 But instead we pressed on, laden with our boxes of leftovers, bellies full and tastebuds post-orgasmic-taste-explosion, to Amalfi, where—spoiler alert!—this story ends with me making out with an Australian guy.
We ended up at a hostel that—unbeknownst to us when picking it—was on the side of a mountain and reached by walking up a very steep and very (very!) long set of stairs.  In the summer sun with our backpacks on, it was less than pleasant and we had to stop several times to rest.
After checking in and laying our packs down, we collapsed.  And then we ate the rest of the pizza, which made everything (sort of) better.
Later that night we ended up at a bar in town, drinking free drinks courtesy of the owner (who also owned the hostel and was hitting on Daneen), and after that we ended up on his boat, ostensibly "because it was a full moon," but also there was mention of skinny-dipping, which, (hazy) I am about 87% sure I participated in (with underwear on, geez Mom.)
Later on because I was so, so tired, and the boat captain was not yet done making moves on Daneen, I crawled below deck, where I made a nest of all the life jackets and fell soundly asleep.
In case you are thinking the story ends there, that we made it back to town and went to sleep (or in case you are my mom and you just had a mini-stroke because: drunk people + motorboat + 2 a.m. + rocky shoreline + boy trying to impress girl = CERTAIN DISASTER), well, let me tell you that we made it back to shore safely, but then—then! While Daneen and various others were toted back up (up! the steep and winding road filled with steepness) in some type of mini-truck-situation, Mr. Australia and I were left at the dock with the utmost assurance by Mr. Hostel that he would "be back in a few minutes" to pick us up.
He did not come back in a few minutes.
And in the meantime Mr. Australia was trying to put the moves on me (and full disclosure, it's possible that I was pulling some moves on him) but I was so, SO tired that I wanted nothing more than to go to sleep.
After an hour or so of waiting for Mr. Hostel, I began to suspect that he was not, in fact, coming back to pick us up.
"No, no," said Mr. Australia, "I'm sure he's on his way."
This went on for at least an hour until the sky began to lighten and turn that sick-bruise color, the color that any good drunk knows is a certain signal to go to bed because you've worn the night out.
I was ready to go to bed.
So I started walking up the steep and narrow street back to the hostel.  Mr. Australia followed, still assuring me that Mr. Hostel was on his way to get us, but meanwhile it was getting lighter by the minute.
Onward we plodded up the hill, sticky with saltwater, tired, thirsty, and hungover.  The street was narrow and winding, and I remember vaguely worrying about how easily a car might slip over the edge, or possibly run into us as it tried to not slip over the edge.
The sun rose and almost immediately it was hot.
There were no other people out; the only traffic I remember seeing was a single car, who I think was delivering newspapers.
There seemed to be a surprising amount of trash on the sides of the road, and I remember thinking, How strange, so much litter and dirt in this idyllic, lemony vacationland.
And then we saw the cat.
The roadkill cat.
It had been run over clean through its middle; the front half of its body was perfectly intact except for the fact that its eyes were popping out of its skull.
No; I am not doing it justice.  Its eyes were popping out of its skull, as in, I could see the optic nerve; the pressure of the tire must have forced the everything out of the cat's body and there it was; the entire rounded orb of the cat's eyeball, and the thick red bundle of whatever-it-is that connects the eyeball to the skull.
"Holy crap," I said to Mr. Australia, "check it out."
Mr. Australia did not want to check it out; rather he wanted to do more hand-holding and small-of-the-back-touching and Hey fellas, in case you need some advice about the ladies, Here it is: When your date is more interested in staring at roadkill than she is in holding your hand, it is a pretty sure bet that you are not going to get laid tonight.  You're welcome.
But really, that cat.  If I had had my camera with me I would have taken a picture—it was incredible in the way that medical museums are incredible, if you are the type of person who is into that sort of thing.
Back at the hostel I discovered that Daneen was fast asleep in our room; when I asked her what had happened to our ride she mumbled, "I asked him if he was going back for you but he was like, 'They'll be fine,' and then he kept trying to make out with me, but I just wanted to go to sleep."
So I guess the moral of the story is 'Never trust anybody who's trying to make out with your friend.'
But maybe also: 'Never trust the guidebook.'
The guidebooks will say how beautiful and lovely these cities in southern Italy are; they will wax poetic about the underwater caves and the terraces of lemon trees and the ancient city preserved under volcanic ash.  But the truth of the matter is that these cities are like any cities; they have trash on the roadsides (in the case of Naples, sometimes A LOT of trash); they have roadkill and they have hole-in-the-wall pubs and they have lecherous men and ladies who will yell at you on the bus; that these places aren't that different from home, after all.
Except that, you should really try the pizza.
Since most of us can't afford a plane ticket over for just pizza, here is a cheaper solution: homemade.
I'm going to recommend that you splurge and get fresh mozzarella (you know, the kind shaped in a ball packed in water).  The trick is to not use too much; it spreads easily and also exudes a large amount of water; (though if you do use too much it will be a lightbulb moment for you when your pizza has lots of puddles in it and you finally realize what all those packages of the pre-shredded stuff mean when they say 'low-moisture mozzarella.')
Pizza Margherita
pizza dough
handful of fresh basil leaves
fresh tomatoes, sliced
fresh mozzarella, sliced and/or torn
olive oil
cornmeal for dusting
If you have one, put a baking stone in your oven.  Preheat your oven to 450°.  Take a handful of pizza dough (about the size of a baseball) and roll/stretch it out to desired size/thickness.  Place it on either a pizza peel (if you've got pizza skills, which we do not) or a rimless baking sheet that's been greased and then sprinkled with cornmeal.
Arrange tomato slices, basil and mozzarella evenly around the pizza.  If desired, drizzle lightly with olive oil.
If using a baking sheet, place the pan in the oven and bake for 5-6 minutes.  Then, using a pizza peel or maybe some spatulas if you need to improvise, transfer the pizza to the baking stone (or if you don't have one, directly on the oven rack).  This will help the bottom of your pizza crisp up.  Bake 5-6 minutes more until cheese is bubbly and melted.