Friends, I have something very urgent to tell you.
Are you paying attention?  Okay.
Summer is almost over.
Whatever it is you are doing, unless it is preparing for a hurricane or battling tropical storm-like conditions, stop right now, go to a farm stand, and buy four of the ripest, reddest tomatoes you can find.  Okay, maybe buy five and keep one for tomato sandwiches.
And then make this tomato pie.
Hurry!  Because it is just not the same if you try to make it with grocery-store tomatoes.  No, not at all.
To quote Guy Clark: "There's only two things that money can't buy, and that's true love and home-grown tomatoes."
The first time I had this tomato pie was several years ago when my high school roommate made it for dinner one sultry summer day.  As she was stirring together the ingredients she said, "I know it looks kind of gross, but it's actually really good."
And she was right.  It did look kind of gross, but it tasted sooooo good.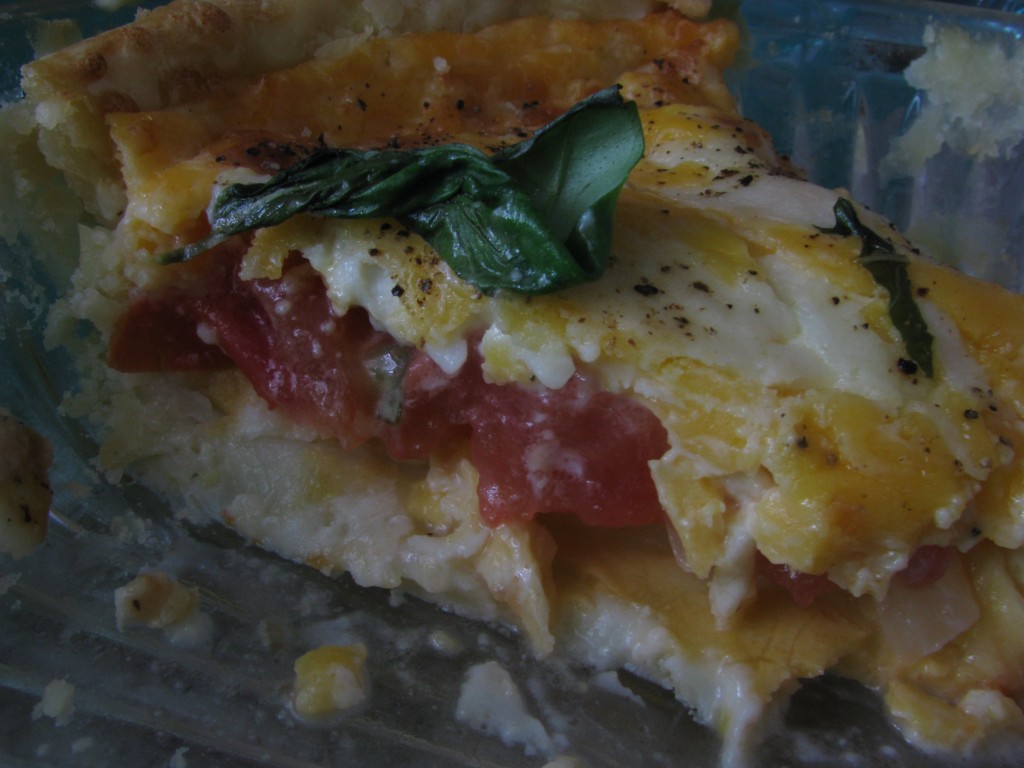 Fresh tomatoes and basil?  Two kinds of cheeses?  Pie crust?  What's not to love?
Well, the mayonnaise is what's not to love if you are (vaguely) health-conscious and (slightly) grossed out by too much mayo.  But it's a must-have in this recipe.  I'm sorry, but there's just no way around it.
The original Paula Deen Tomato Pie recipe calls for loads of regular mayo.  But I say light mayo works just as well, and you don't need that much of it—just enough to bind the cheeses together.
Fresh basil is also a must-have, but luckily there is a glut of it this time of year.
So go!  Seize the last of the summer days (and tomatoes)!
Light Tomato Pie Recipe
1 pie-crust 4 medium (non-grocery-store) tomatoes ½ cup fresh basil leaves, chiffonaded/chopped 1 cup shredded cheddar cheese 1 cup shredded mozzarella cheese 6-8 Tablespoons (more or less) light mayonnaise 1 onion, diced; or use 1 bunch green onions, chopped salt and pepper
Roll your pie crust out into a pie pan (deep-dish if you have it) and pre-bake according to package (or recipe) directions.
Core the tomatoes and slice them about ½ inch thick.  Put them in a colander and sprinkle lightly with salt.  Set them aside to drain.
Heat 1 Tablespoon olive oil over medium heat in a small saucepan.  Saute the diced onion 5-6 minutes, until softened.  Set aside. [If using green onions, skip this step].
Stir together cheeses, basil and mayo, using just enough mayo to hold the cheeses together (or if you're a mayo fiend, Paula Deen's recipe calls for 1 cup).  Season with pepper.
In the prebaked pie shell, layer half the tomatoes and half of the onions.  Top with dollops of 1/3 of the cheese mixture, then the rest of the tomatoes and onions.  Top with the rest of the cheese mixture (this will be difficult to spread unless you used lots of mayo—just try to get it distributed as evenly as possible).
Bake in 350° oven for 30 minutes or until top is browned.