Please don't be mad at me.
But I've been holding out on you.
I didn't mean to, really.  It was just that winter got in the way, and then spring.  And then gardening and a boy.
I've had this recipe for nearly a year now and have made it dozens of times.  In the summer I usually end up making it at least once a week, often at my mom's request (or maybe pleading?  demanding?) because it's the perfect summer lunch—cold noodles with veggies and a light-but-flavorful dressing.
It comes from my friend Jo's mom, who had it on her refrigerator.  It is now in such constant rotation that I have it on my refrigerator.
When I first had this salad, I ate a double batch of it.
And then the next morning when Jo asked me what I wanted for breakfast I said, "Soba noodle salad?"
And so we ate it for breakfast.  That's how good it is.
Quoth my mom: "I was going to say, 'It's so good I just want to stick my face in it,' but I kind of already am."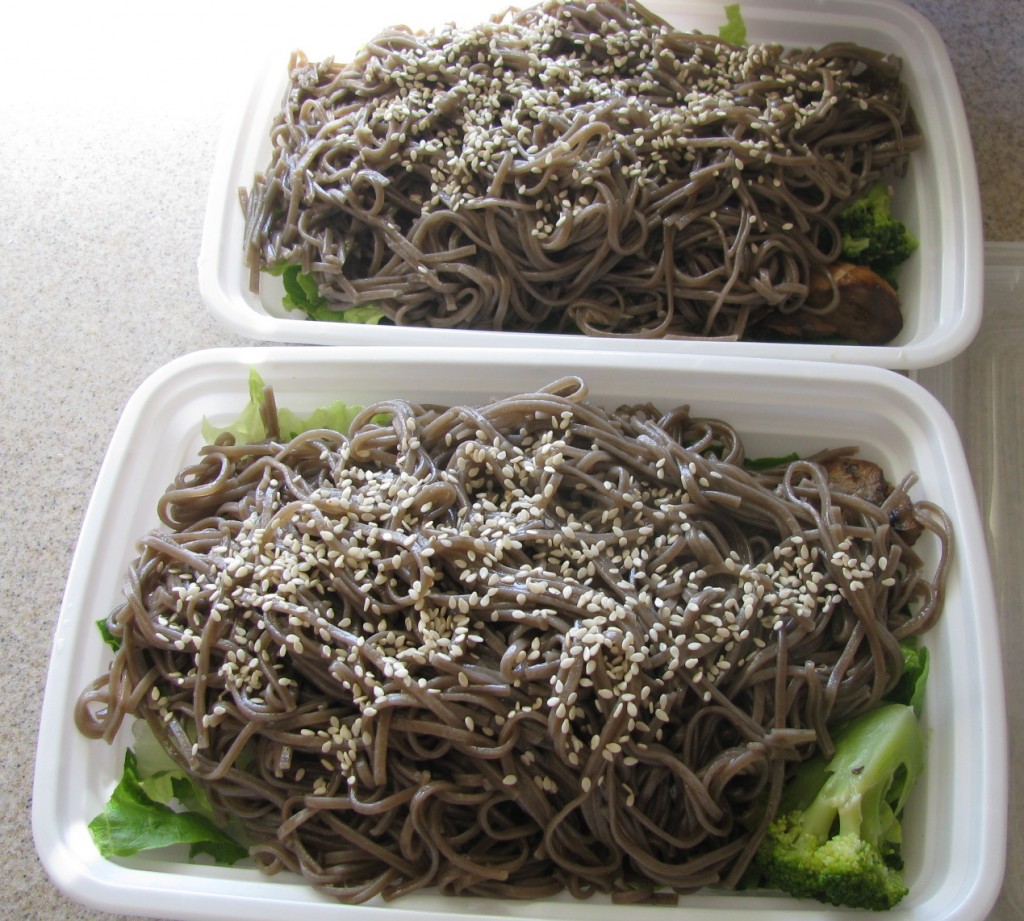 Serve it with plenty of veggies of your choice—lettuce, cucumbers, raw onions, tomatoes, broccoli, quick- or ginger pickles.  I usually make a double batch of the dressing to have extra on hand—it keeps for weeks.
Because you never know when you'll decide you need soba noodle salad for breakfast.
Soba Noodle Salad Recipe
makes enough for 2-3 people 2 'bunches' soba noodles (about 6 oz, I'm guessing) 2-3 cups chopped veggies—lettuce, fresh spinach, cukes, onion, broccoli, etc. Cubed tofu or cooked chicken (optional, if you want a protein source) For the Dressing: 2 Tablespoons soy sauce 1-2 Tablespoons wasabi (optional, depending on your spiciness preference) 1 Tablespoon oyster sauce 2 Tablespoons lemon juice 2 Tablespoons vinegar (I use apple cider vinegar) 2 Tablespoons sugar 1 Tablespoon (~3-4 cloves) garlic, finely minced 2-3 Tablespoons olive oil* 2 Tablespoons sesame oil (or more olive oil) sesame seeds as desired
Bring a pot of water to a boil.  Add soba noodles and stir.  Continue cooking according to package directions until al dente (usually 3-5 minutes).  Drain and set aside.
Divide lettuce or fresh spinach on 2 serving plates or 'to-go' containers.  Divide noodles equally between serving plates and top with other veggies and tofu or chicken, if using.
Combine all dressing ingredients in a leakproof container and stir until well combined and sugar and wasabi have dissolved.
Spoon dressing over soba noodles and sprinkle with sesame seeds.  Serve immediately.
*If preparing ahead of time, use only 1 Tablespoon olive oil in the dressing, and toss the cooked noodles with 1-2 Tablespoons olive oil to keep them from sticking.  Pack dressing in a separate container and spoon on just before serving.