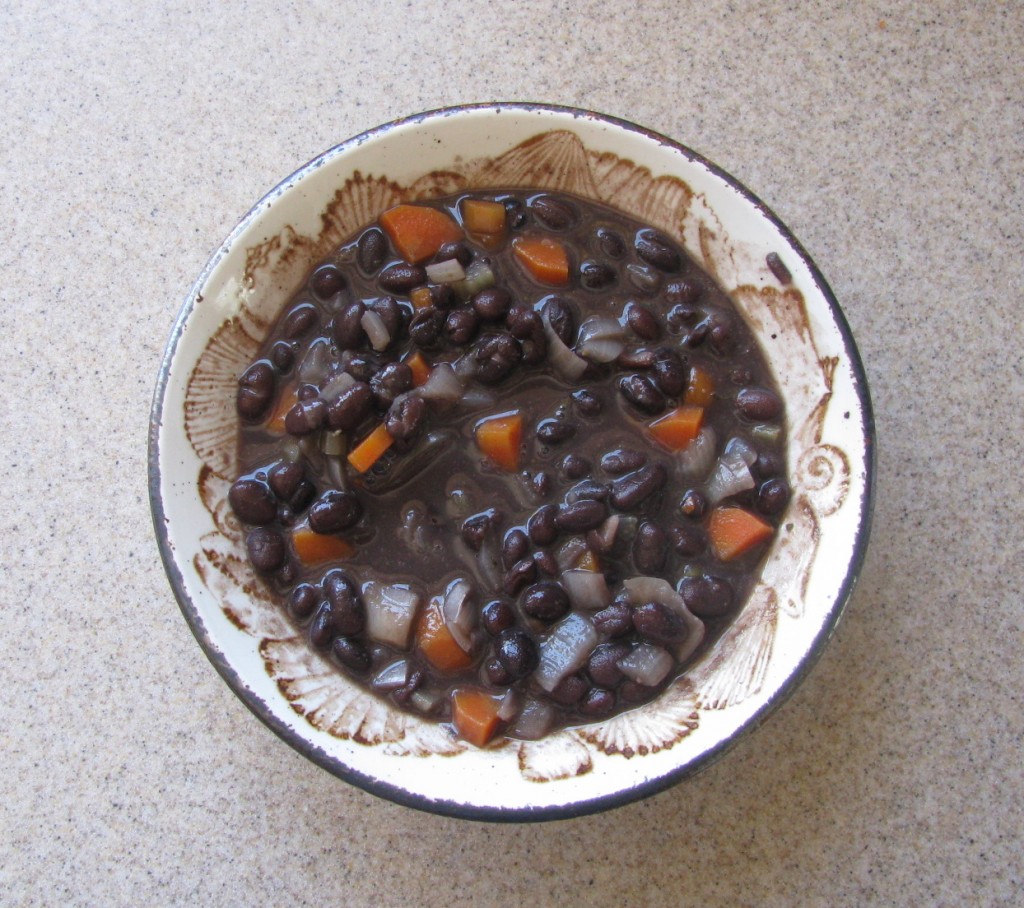 I have a love-hate relationship with black bean soup.  Or at least I used to.
I love the idea of it—healthy and hearty and simple—but I hated what usually came out of a restaurant kitchen: an over-salted glumpy mess.
So I'm glad that I finally learned not to order black bean soup in a restaurant, and decided to start making my own.  It took me a while, but hey, some of us are slow learners.
This recipe comes from Vegetarian Meals for People On-The-Go by Vimala Rogers, which is one of my favorite vegetarian (it's actually mostly vegan) cookbooks.
This was the first black bean soup recipe I've ever tried—and also the only, as it was so perfect I have never had a reason to try anything else.  Why mess with perfection?
It contains a decent amount of vegetables so that it doesn't weigh you down like a brick, and various spices to add a bit of zip.
Because I'm cheap, I like to start with dry black beans and use my pressure cooker, but the recipe says you can substitute canned.
The only change I made to the recipe is to sauté the veggies separately before adding the black beans (originally she says to just dump everything together and simmer 15-20 minutes, which I'm sure is just as tasty as well as being much easier).
In the cookbook, this soup is described as "especially outrageous," and for black bean soup, indeed it is.
Black Bean Soup Recipe
from
Vegetarian Meals for People On-The-Go
1 ½ cups dried black beans (or 2 15-ounce cans, undrained) 1 onion, diced 2 carrots, diced 1 rib celery, minced ½ of a bell pepper, diced 2 Tablespoons olive oil 1 bay leaf 3-4 Tablespoons lemon juice, to taste ½ teaspoon dry mustard 1 teaspoon salt (less if using canned beans) ¼ teaspoon black pepper, coarsely ground 1 Tablespoon apple cider vinegar ¼ teaspoon nutmeg ½ teaspoon coriander ½ teaspoon peeled and grated fresh ginger (or sometimes I just use a few shakes of ground ginger)
Soak black beans overnight (or use quick soak method).  Drain beans, then add the bay leaf and enough fresh water to cover well (about 2 inches above beans).  If using a pressure cooker, cook beans about 20 minutes.  If no pressure cooker, bring beans to a boil, then simmer for 2 ½ hours or until tender, adding more water if needed.
Just before the beans are done, sauté the onion, carrots, celery, and bell pepper in olive oil over medium-low heat about 5 minutes, until onion is slightly softened.
If your beans seem like they have a lot of liquid, drain some off (but reserve it just in case).
Add vegetables and all other ingredients to the beans and simmer 15 minutes, adding reserved liquid if desired.
This soup is great served with brown rice and maybe a salad or green veggie on the side to complete the meal, or garnished with sour cream, shredded cheddar, cilantro, and/or diced fresh tomatoes.