I never thought I'd say this, but:
I really liked Los Angeles.
Maybe it was because for the previous 16 days I'd experienced nothing but gray skies and chilliness and snow and/or rain.
Maybe it was because I was expecting really awful things, like horrible traffic and smog and ridiculously overpriced everything.
My first day in L.A. it was 70° and sunny.  To me that sun was like in the movies when a shining beam of light comes suddenly out from behind a cloud and the angels sing.
It made me want to bask in it.
So we did.  My friend Jo and I walked to a park/museum campus, ate sandwiches on the grass, and basked.  We also made some friends: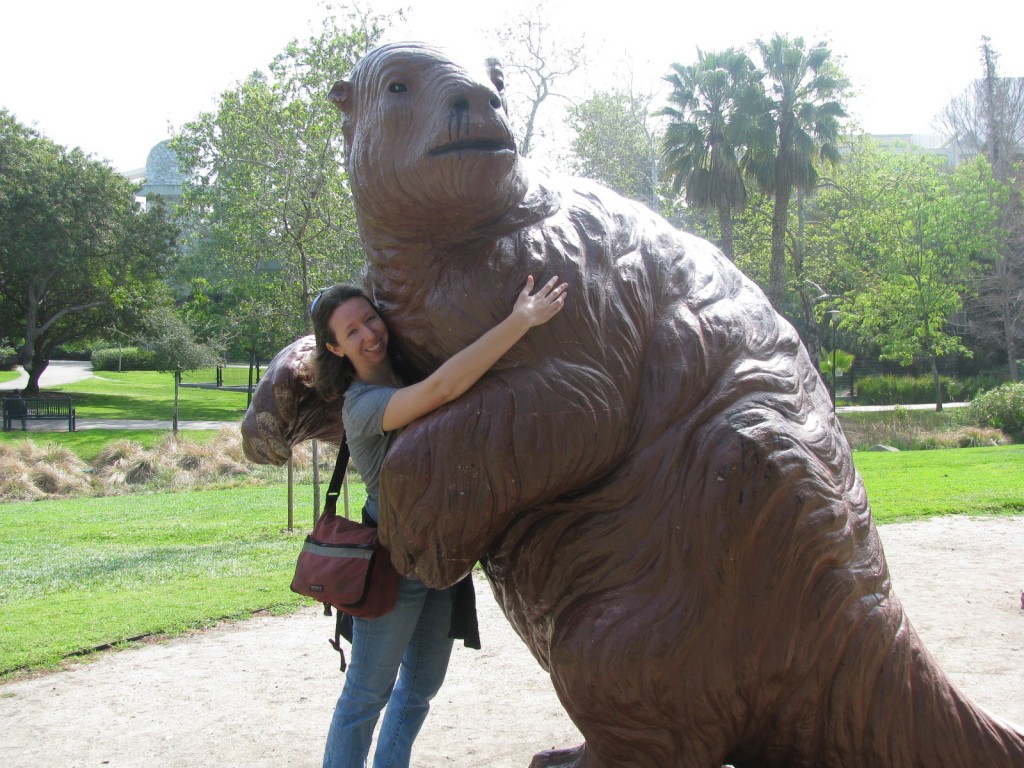 And did some inappropriate touching.
Also, possibly, some inappropriate licking.
But it's okay, because it was art.
And we were basking.
So there.
We wandered around the La Brea tar pits, where I was enamored/amazed by the tar.  What do you mean it's just bubbling out of the ground?  In the middle of L.A.?  What!? If I had known how to work my camera, I would have taken a video for you of the tar bubbling up.  Alas, all I have is a photo that does not quite do it justice.
Later that afternoon my friend Daneen and I went on a trip to the post office, where I contemplated how to send a paper grocery sack of dirty sweaters for as cheaply as possible.  Answer: you don't.  You shove them into a package that your friend is sending to her mom who lives in the same town as you.  And then for two months you completely forget that you were supposed to go by and pick them up.  Whoops.
Later we drove over to Jane and Tim's in Long Beach, where they cooked us a beautiful dinner (that, unfortunately, I can't remember what it was except that there was a salad involved, and lots of wine.  Hence the not-remembering).
All in all, L.A.=not so terrible.  Who knew?