It's time, I think, to put an end to the shame and silence over this issue.  I know you have them, so I'm not going to pretend that I don't have them either: Scabies!
Oh, wait, what I meant to say is: Standbys.  You know, the meals you cook when you don't know what else to cook and you don't feel like going to the store.
The recipes you know by heart and are sure to always keep the ingredients on hand.
The recipes that are always good but maybe not emphatically great—recipes you probably wouldn't serve at a dinner party because they don't seem fancy enough, but are more than suitable for when your friends stop by in the afternoon and one drink turns into two turns into dinnertime.
Is it any surprise that my standby meal is a pasta?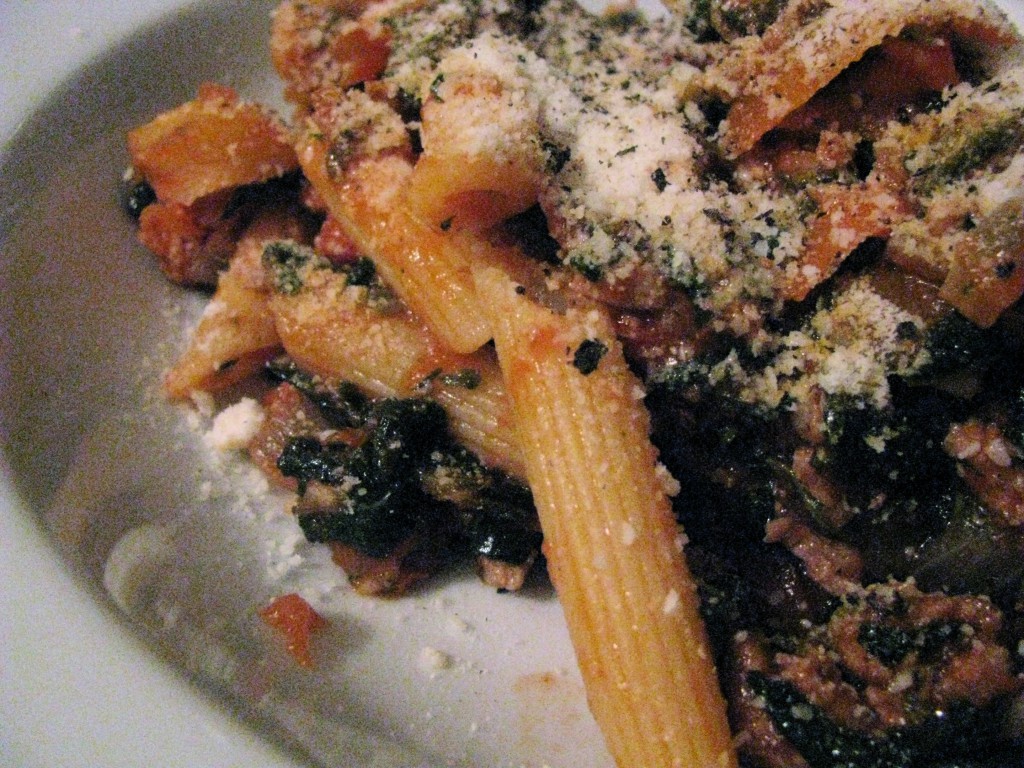 For a little while my fancy-pants standby meal was Drunken Mussels Linguine, but that ended once the store stopped having Buy One Get Two free sales on frozen mussels.
In a pinch, Easy Fettucine would also work but then you have to also cook some sort of vegetable and a protein, and sometimes that is just too much thinking.
This standby pasta is chock full o' veggies and has a healthy portion of protein to boot.  I usually make it with ground turkey but you could use beef, sausage, or TVP rehydrated in veggie broth or tomato juice—whatever floats your boat (or is on sale/in your fridge).
Spinach and Turkey Pasta Recipe, a.k.a. Standby Pasta
1 pound penne pasta 1 pound ground turkey (or beef/sausage/rehydrated TVP) 1 jar or can spaghetti sauce 1 10-oz. package frozen chopped spinach, thawed 1 onion, diced 3-4 carrots, chopped very finely (or shredded if you're lucky enough to have a food processor which I'm not so please don't gloat) 5-6 cloves garlic, crushed or minced 1-2 teaspoons each dried basil, oregano, and/or Italian seasoning ¼ to ½ teaspoon red pepper flakes, or to taste 2 Tablespoons olive oil 1 15-oz. can crushed or whole tomatoes, or tomato juice/V8/veggie or beef stock, optional ½ cup red wine, optional
In a large frying pan, heat olive oil over medium heat.  Add onions and carrots and sauté 3-4 minutes until softened.  Add ground turkey/beef/sausage and cook until browned.  Add spaghetti sauce, spinach and herbs and reduce heat to medium-low.  Let simmer while you cook your pasta.
Add additional liquids (canned tomatoes/juice/stock/wine) if desired if the sauce is getting too thick.  Just before the pasta is done cooking, add the garlic and red pepper flakes to taste.  Drain the pasta and stir together with the sauce in a large pot.  Serve topped with plenty of fresh-ground black pepper and parmesan cheese.