I left Chicago at 2 pm on a Wednesday.  And then I arrived in Olympia, Washington at 7pm on Friday.  And boy, let me tell you, I was ready to GET OFF THE TRAIN.
In my memory it isn't quite so terrible.  It was: 2 nights of an uncomfortable sleeping situation; surprisingly good coffee from the lounge car in the mornings; lots of different people, and lots of snow.
What?  You're thinking.  Snow, in Minnesota and North Dakota, in February?  No!
Yes.  I feel like for two days all I saw was snow.  And more snow.  And then maybe a little ice.  And then more snow.  I've never experienced cabin fever before, but I think I came close.
There's really not a whole lot to say about those 2 days of my life that I can never get back, except for: Snow!
But let me tell you about some of the people I encountered on the train.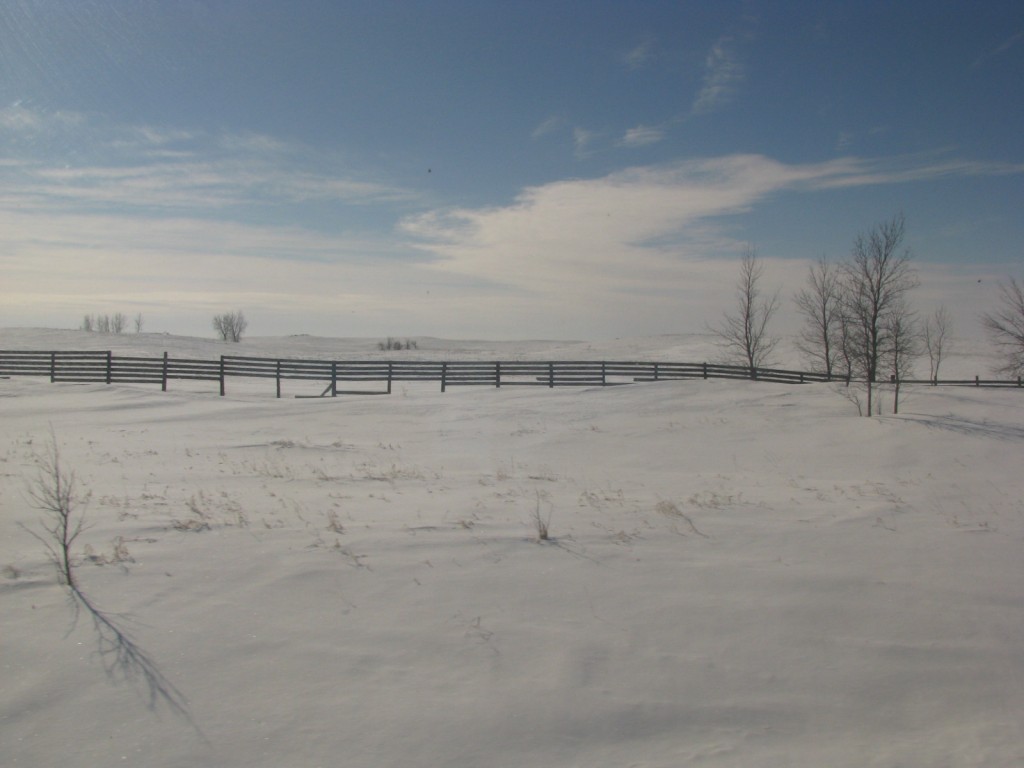 There was the burn victim.
There was 'Ms. Minot,' who slept through her stop (Minot, N.D., at approximately 11 a.m.) and who then proceeded to yell at the conductors.  "I want to know why you weren't doing your job!"  and also, "Every time I fall asleep on the Amtrak something bad happens.  First someone stole my purse.  Now I missed my stop!"
There was Mr. Drunky-pants, who, all within the span of 20 minutes, sat down in the seat across the aisle from me, fell asleep and began snoring, then woke up, hocked a loogie and spat it onto the floor of the train, then stood up and walked away.
Mr. Fargo, whose cell phone went off every few minutes but only played this line from the Creed song: "With arms wide open" and he never even answered it or turned it off and it was loud and it KEPT PLAYING and I was stuck in the train and he was sitting across the aisle and I swear to god if I heard that thing again I was going to punch him in the face.
Mr. Liver-cancer, whose doctor told him he had liver cancer but who did not, in fact, have liver cancer.
Mr. Says-What-He-Sees, whose memorable lines included: "Oh, there's the Schwann's truck."  "Hey, there's some antelope."  "Sheep-n-cows, sheep-n-cows."
Mr. Walking-talking man who, as he passed by me said to his companion, "Reminded me of 2 bobcats in a gunnysack, wrestlin'."  I am assuming he was talking about two people on the train who were trying to have sex underneath a blanket.
The boy who ate raw meat for breakfast (and I'm assuming for most other meals as well) and whose rationale was, "Lions and tigers don't cook their meat."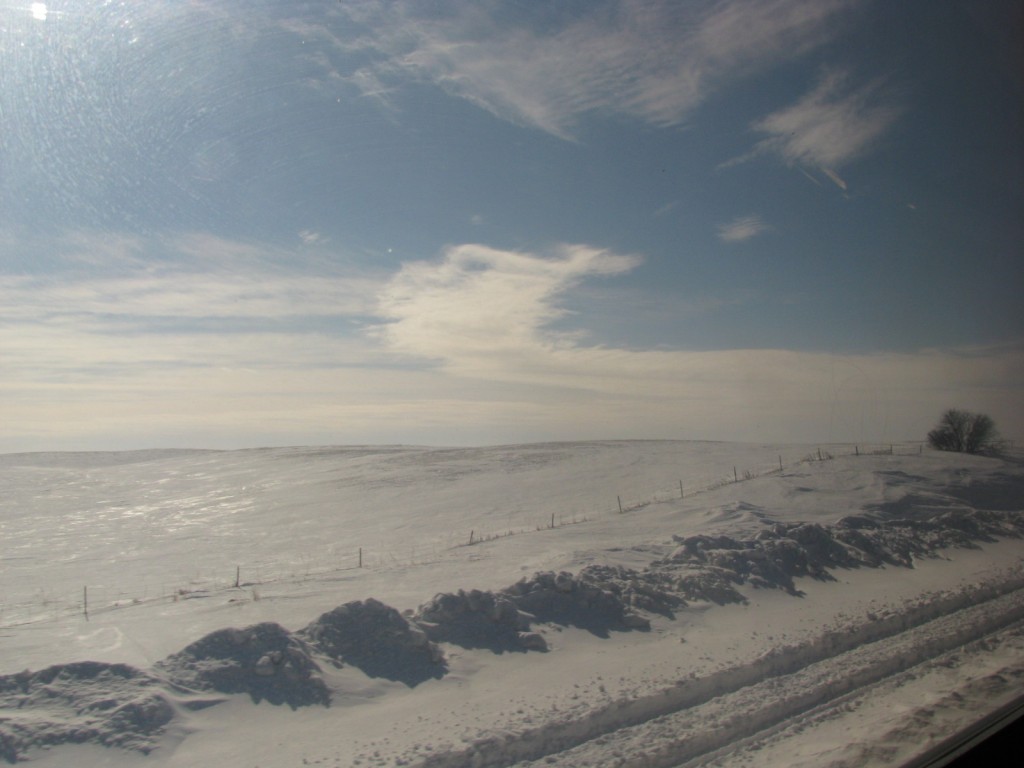 There was the head-rocker/nervous tic lady who spent her time on the train drawing a leopard.
And there was my new friend the Canadian Mennonite beekeeper whose name, I kid you not, is Abe, and who I may or may not visit some day to learn how to keep bees.
There was also the guy whose seat I stole on the train from Portland to Olympia, but I don't want to talk about that right now.
Were there any sights on this 50-hour train ride, besides the fascinating people, you ask?  Why yes, there were!
There was snow!
But also: The AAA Pipe and Nipple Co.  (Hahaha, they said 'nipple.'  Also I am a 12 year-old boy).
The Christopher Columbus Museum in Columbus Wisconsin.  Which has, quite possibly, the most depressing website I've ever seen.
Rugby, N.D.: The Geographical Center of North America!
Coyotes, deer, antelope, pheasants, and white rabbits (and then I got "Home on the Range" stuck in my head for about 12 hours).
And finally there was Winona, Minnesota.  Which I challenge you to say out loud without sounding like a Midwesterner.
I also have scribbled down in my notebook: "somewhere in MT: please get me away from these accents" and "Havre—boy it would suck to get stuck there."
So there you have it: The longest train ride of my life.  Until, that is, the train ride from L.A. to Austin.  But I don't want to talk about that right now either.