When I studied abroad in Austria, I was assigned to live with a Christian host family because I was vegetarian.
These two things have nothing, really, to do with one another, but the housing coordinator was trained to look for commonalities among people based on a brief paper survey. So she decided that the only other vegetarian student should be my roommate and—what do you know!—my roommate also happened to be a born-again Christian, so wouldn't it be a good idea for us to live with the Kocher family, who happens to also be Christian* (as opposed to Catholic, which the majority of Austrians were).
*I can't remember what type of church they went to—Protestant? Pentecostal?—so I am using 'Christian' in a sort of vague sense meaning 'non-Catholic Christian,' so I guess what I am really trying to say is, they were the kind of Christians who were really into Jesus.
This worked out well for my roommate, who almost immediately found an English-speaking church and began attending their Sunday services and their weekly Bible studies.  She also strongly, relentlessly encouraged me to attend with her, which I did sometimes, though apparently not often enough to prevent her from viewing me as a sinner in need of saving, and from writing Bible verses on scraps of paper and hiding them throughout all of my personal belongings. (I found Bible verses in all of the following places: my purse, my books, my backpack, my underwear drawer, my toiletries bag, my placemat at the dinner table, my desk, my pillow, my shoes, the pockets of my overcoat.  Really.  All of my personal belongings.  A year after I returned from Austria I took a CD out of its travel case and found a Bible verse tucked behind it).
She was also prone to telling me things like, "I've been praying for you," usually after I had been out for a night of heavy drinking.  Suffice it to say, if I hadn't had to meet her watchful, judgy eye every morning at the breakfast table there's no telling how many more guys I might have slept with over there.
When our host mother found out that she would be hosting two vegetarians, her immediate response to the housing coordinator, she later told us, was, "Can you send them back?"  This was followed by a flurry of phone calls to all of her friends, asking them in panicked tones, "What do vegetarians eat?"
She was mildly relieved to learn that we ate seafood; this, at least, was something in her cooking repertoire.  This, at least, meant she could (sometimes) serve us something other than salads.
And so for the first week or two, as she dusted off old recipes she hadn't made in decades (in particular I remember a walnut quiche that was—surprisingly—good) mealtime was met with her anxious face across the table, wondering, "Is it good?"
It was, almost always.  Though I did get tired of those salads pretty quick.
The only other meal I remember—besides the walnut quiche—was a pasta with smoked salmon, peas, and cream.
I was not much of a home cook at the time, but I was so taken with this dish that I had to know what was in it, so I could recreate it later.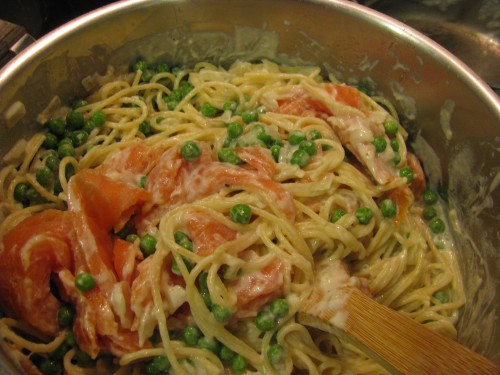 "Oh, it's so easy," Frau Kocher said with a nonchalant flip of her hand.  "It's just pasta, and I cook an onion and some peas, and then I add the salmon and crème fraiche."*
*If you were wondering, most of our conversations with the Kochers took place in English; Frau Kocher's English was substantially better than Herr Kocher's due to the years she spent as a teenager in Canada, where her father was a chicken farmer.**
**I am unclear on the exact logistics, but her family moved from the Netherlands to Canada for some reason related to her dad being a chicken farmer.  (Did Canada need more chicken farmers?  Was he not fulfilling his chicken-farmer potential in the Netherlands?  Was he working for an international chicken-farmer-company and they offered him a transfer with higher pay?  I have no idea, but I kinda feel like it was the last one, as improbable as it sounds, or maybe a combination of the first one and the last one.***
***Did I mention the nights of heavy drinking I was doing at the time?  I learned, for example, that I could drink 2 liters of beer in one sitting, but not 3.****
****Actually I could, technically, drink 3 liters of beer in one sitting, but then the night would not end well for anybody, most especially me.
Anyway. The pasta.
Frau Kocher became slightly flustered when I asked her to explain what crème fraiche was.  Crème fraiche was not yet in vogue in the U.S.; even if it had been, they certainly were not stocking it at the Cub Foods in Iowa City anytime soon (or, probably, ever).
I understand now that me asking her what crème fraiche was would be the same thing as someone asking me what, say, cottage cheese is.  "Oh, you know, it's, umm…it's made of milk?"
Frau Kocher quickly gave up on the explanation part of things, and showed me the empty container from the trash.  "It's this," she said.
"Oh!" I said, "Like sour cream!"
"Yes, but it's not sour…it's fresh."
"Oh." I said.  "Like yogurt?"
"No," she said.  "Like sour cream.  But fresh!"
I was certainly no closer to understanding what crème fraiche was.  Except that it was like sour cream.  But fresh.
It's been about ten years since I first had Frau Kocher's pasta with salmon and peas.  I have tried to recreate it a few times since, but never with great success.
Until a few nights ago, that is, when I had a package of smoked salmon I needed to use up, and peas in the freezer.
This time I think I nailed it.  I mean, as close as anyone can nail it without actually using crème fraiche.
(What I didn't nail, though, was a way to work into this story that I was living with the only European who liked George W. Bush because—as Frau Kocher explained to me—"He's such a good Christian.")
Smoked Salmon Pasta with Peas and Cream
1 onion, diced
2 Tablespoons butter
2 Tablespoons flour
2 cups milk (I used 2%)
4 oz. cream cheese (1/2 block), cut into cubes
4 cloves garlic, crushed
1 lb. pasta (I used thin spaghetti; linguine or fettucine would also be good)
1 lb. frozen peas
2 roasted red peppers, diced (optional)
8 oz. sour cream
14 oz. smoked salmon, cut into bite-sized pieces
In a pot over medium-low heat, melt the butter.  Add the diced onion and sauté 5-10 minutes or until softened and translucent.  Add flour and stir until evenly distributed.  Add milk, stir, and raise the heat to medium-high.  Stir occasionally until mixture begins to bubble.  Lower heat and add cream cheese.  Stir until dissolved.  Add crushed garlic and stir.  Turn heat to low.  Add salt and pepper to taste.
Meanwhile, cook pasta according to package directions.
3-4 minutes before pasta is done cooking, add the frozen peas to the pasta.  They will cook in the same water as the pasta and be done at the same time.
Drain the pasta & peas.
Remove the milk/onion mixture from heat.  Add roasted red peppers, if using, and sour cream.  Pour over pasta/peas, and add smoked salmon.  Stir until well combined.
Serve garnished with grated parmesan and ground pepper.
*Note: As much as possible, try not to 'cook' the smoked salmon but fold it in just before serving, enough to be just heated through.  Otherwise it becomes slightly dry and not as tender.