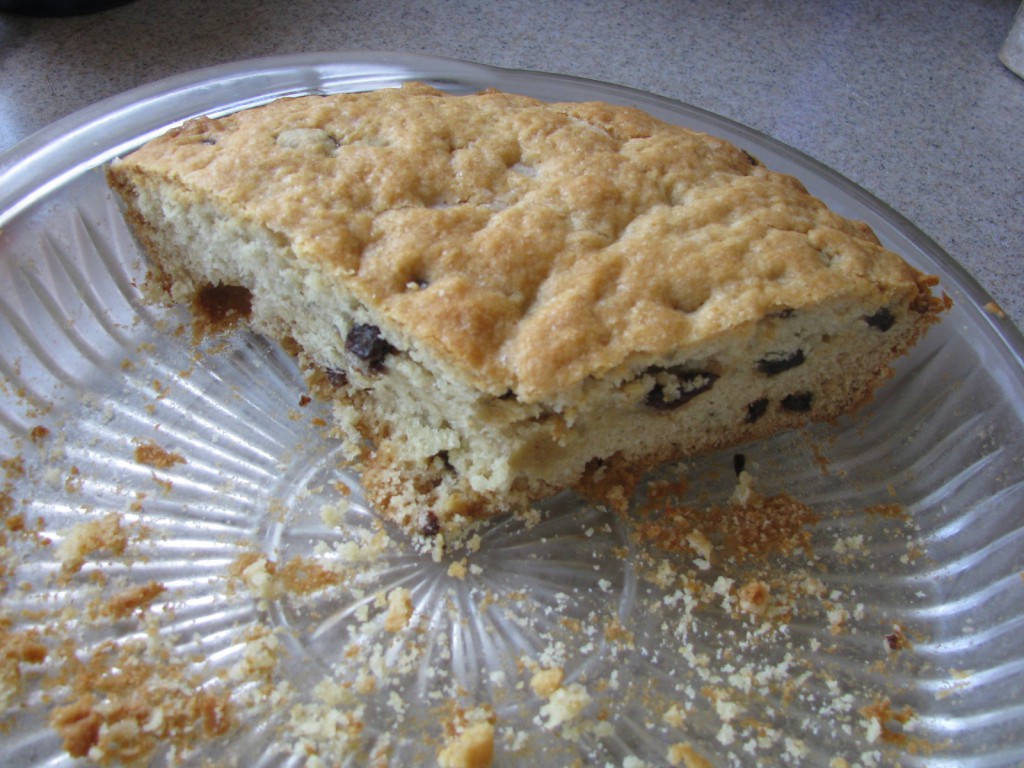 Hey.
Hey you.
Do you have any Irish in ya?
No?
Do you want some?
Sadly this is the only Irish joke I can remember and I can't even use it because a) I am not Irish and b) I am not a lecherous man.
But what I can give you, in the spirit of St. Patrick's Day (which I only realized was coming up when I saw all the grocery store fliers prominently advertising cabbage for 37 cents a pound) is a recipe for Irish soda bread.
This is a Mama P. recipe that she got from, according to the recipe card, one Marie T. Lee and which she's been making for ages.  It's easy to make and virtually foolproof—no yeast, no rising times—just mix and bake.
Even I, who detest raisins in baked goods, think the raisins are an integral part of this recipe (though technically I think it calls for currants, but who the heck ever has currants on hand?)
The resulting bread is not too sweet but not too savory, with a dense, almost shortbread-like crumb, and a crisp top crust.
And it's oh-so-delicious for breakfast, toasted with a smear of butter.
Irish Soda Bread Recipe
from Mama P. and Marie T. Lee
4 cups flour
1 cup sugar
1 teaspoon salt
1 teaspoon baking soda
2/3 cup vegetable oil
1 cup buttermilk (or use 1 cup regular milk mixed with 2 Tablespoons vinegar)
1 cup raisins or currants (optional)
Sift together flour, sugar, salt and baking soda.  Stir in vegetable oil.  Add raisins and buttermilk and mix/knead together until well combined.
Depending on the type/size of dish you use (mama P. always bakes this in a round glass pie dish):
9" round or square metal pan: 350° for 45-50 minutes
9" round or square glass dish: 325° for 40-50 minutes
2 loaf pans: 325° for 50-55 minutes.