We make a lot of pasta around here.  And we also make a lot of casseroles.
So it seems only natural that we'd end up making baked pasta casseroles, too.
One of the first dishes I ever learned to make was lasagna.  I mean, how hard is it, really?  Lasagna just falls into the 'tedious' rather than 'difficult' category because of all that layering.  For some reason that is unfathomable to me now, I always filled those first lasagnas full of broccoli.  It was good, mind you, but it was still a broccoli lasagna.
These days my lasagnas are simpler—no meat, even—just noodles, sauce, ricotta (because you never know when you might need to entertain a vegetarian), and they've become my 'funeral casserole' (you know, what you give to the family of the bereaved.  What, you don't have a funeral casserole?) or, at other times, the 'congratulations on the new baby and not ever getting a full night's sleep again' casserole.
Recently we were talking with some friends who started doing the 'cook-lots-of-meals-once-a-month-and-then-freeze-them-so-you-don't-have-to-cook-on-weeknights' thing and the topic turned to lasagnas, and then to no-boil noodles.
He was aghast that I still boiled my lasagna noodles, instead of buying the no-boil kind.
"But they're more expensive," I countered, "and besides, how difficult is it to boil noodles anyway?"
And that got me reminiscing about my college days when I was expanding my cooking repertoire and, coincidentally, campbell's (or somebody) had just come out with these 'pasta bake' sauces that my roommate bought for some of our semi-weekly roommate dinners.
I don't remember much about them except that they were easy and delicious.  1 box pasta+1 jar sauce+1 jar water + cheese=dinner.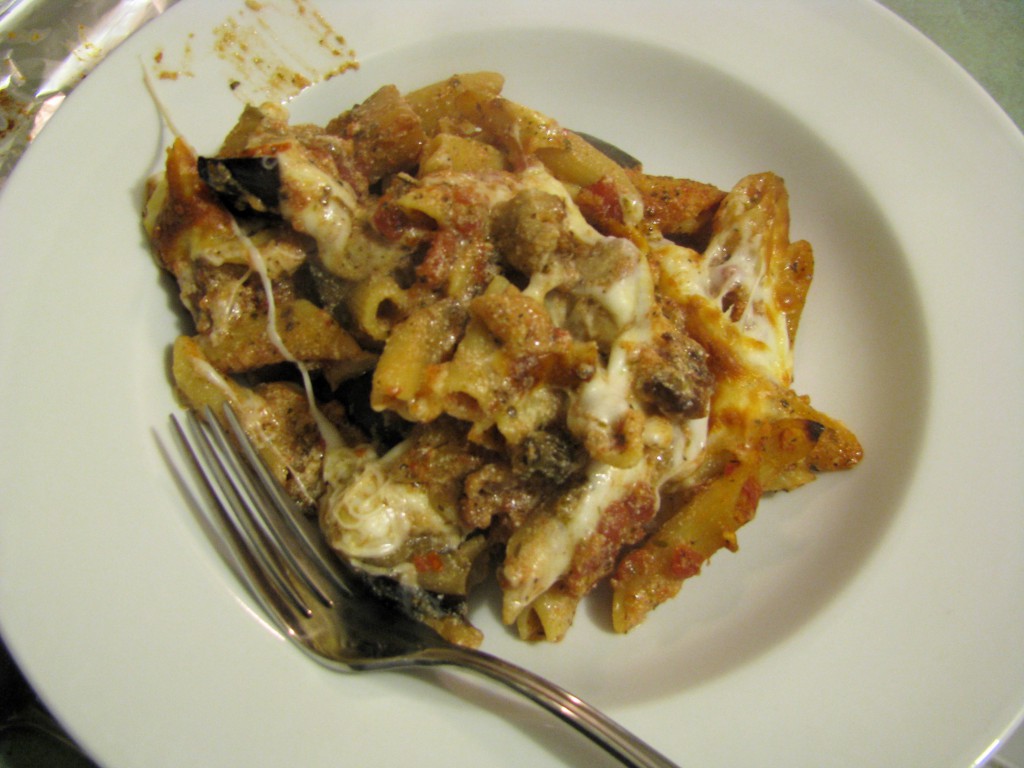 They were my go-to for pasta casseroles for several years, but then I forgot about them and stopped buying them.  By the time I thought about them again, several years later, they weren't on the market anymore.  See how strong my buying power was?
Anyway, after some discussion/mild argument that was ended by a google search, we gleefully discovered that you don't really need a 'pasta bake' sauce—you just need a pasta sauce, period, and that all noodles can secretly be used as 'no-boil' noodles.
And somehow, when you 'no-boil' noodles in a pasta bake, the pasta becomes so very tender (I want to say almost creamy, but that seems wrong) and infused with flavor from the sauce.  It is some magical chemical reaction that I would explain to you if I could.
For our pasta bake we added some sausage and diced eggplants because that's what we had—but you could add in anything you had on hand—peppers, onions, zucchini, chicken, or maybe even broccoli.
No Boil Pasta Bake
1 pound penne or ziti pasta or similar (something 'short' as opposed to long—i.e. not spaghetti)
1 24-oz. jar pasta sauce
1 pound cooked meat of your choice (we used sausage)
3-4 cups diced veggies, sautéed or steamed
2 cups shredded mozzarella
Preheat oven to 425°.  In a large casserole dish, mix together the pasta, pasta sauce, and a jar (the pasta sauce jar) full of water.  Cover with aluminum foil and bake 30 minutes.
In the meantime, cook your other add-ins—brown the meat and sauté the veggies as desired.
After 30 minutes, uncover the pasta and stir.  Stir in any meats and veggies if using.  Sprinkle the mozzarella evenly over the top and bake, uncovered, 10 minutes more or until pasta is tender.