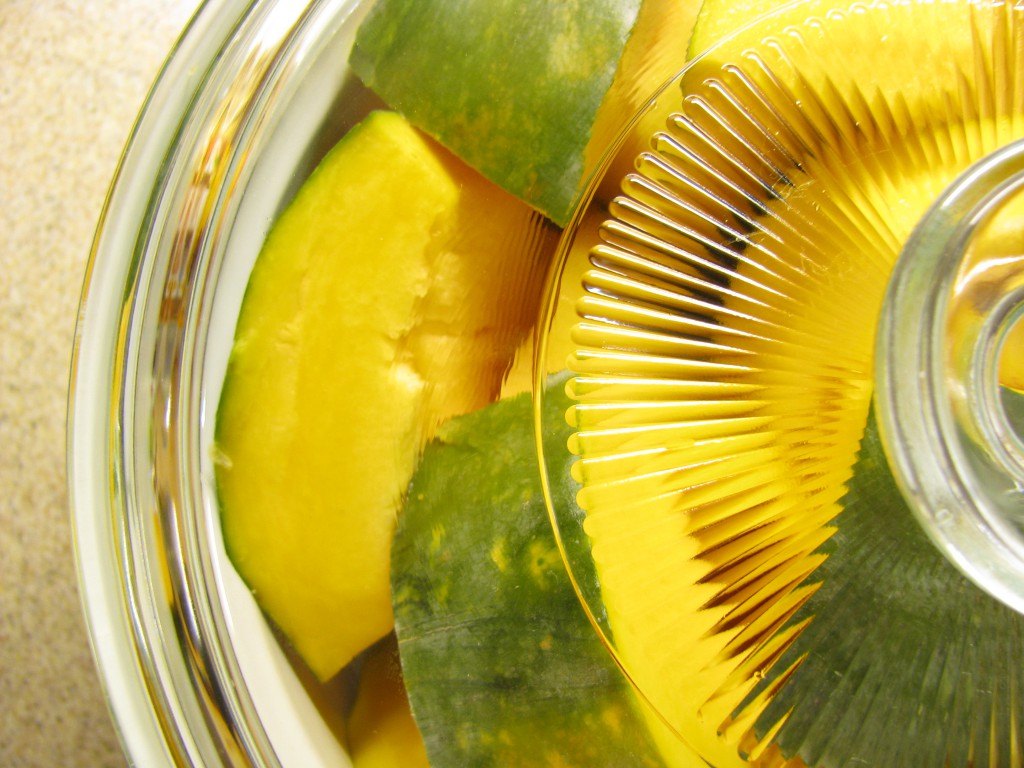 This was one of the first cookbooks I ever got.
My mom got it for me, based partly on my newfound-at-the-time vegetarianism, and partly on her ownership of The Tassajara Bread Book, a remnant of her hippie college days.
And it's a gem of a cookbook—every recipe I've tried has been a keeper.  Not only that, but a few of them make me start to drool just thinking about them—the mustard-butter pasta, the lemon pudding cake.  And this one, too—the butternut squash soup.
In the book it's called 'Perfection Squash Soup,' and while it is perfection, their name for it actually comes from the particular variety of winter squash they use.
Personally, I've never seen a 'Perfection Squash' in the seed catalog or in the store, but no matter.
I grew these bad boys instead.
I used a combination of butternut and acorn squash for this recipe (well, okay, I'm not sure if it was really an acorn squash or not, as I grew it from some seeds I'd saved.  It did not resemble the original squash at all, instead growing into something I will simply call 'alien squash.')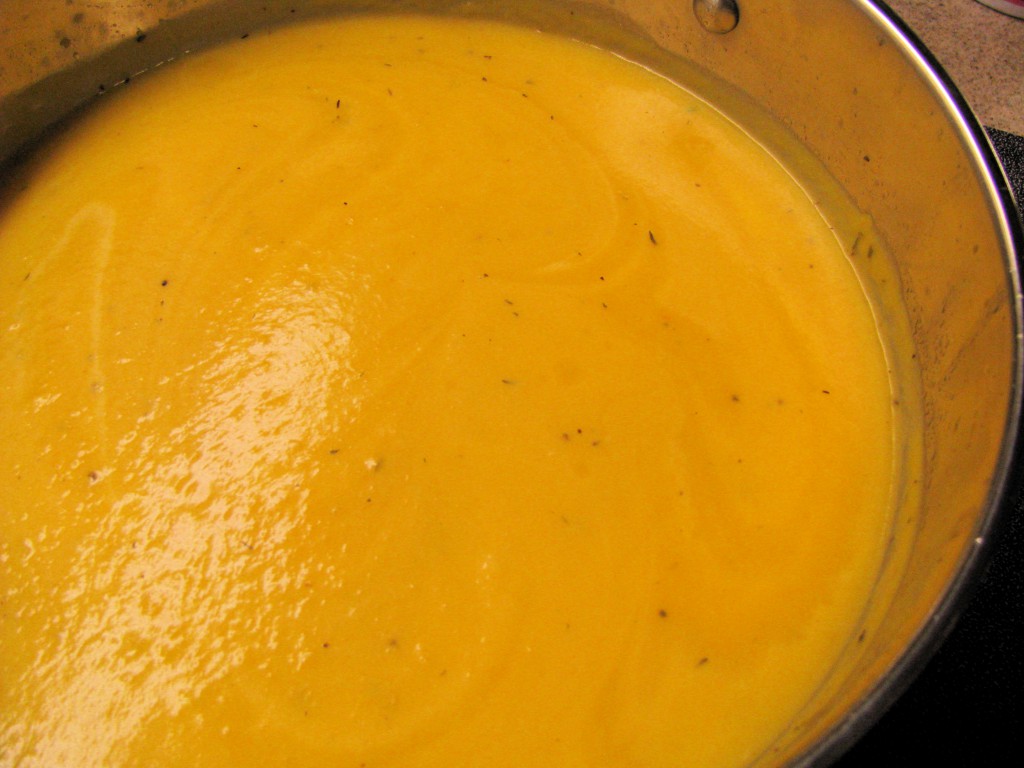 No matter.  Just grab a couple of orange-fleshed winter squash.  You can do that, right?
The recipe calls for cubing and peeling the squash before you cook it in the soup pot but if, like me, you secretly believe that winter squash is on a mission to get you to cut off your own fingers, you can cook it before adding it to the pot.
Cut it into large chunks and steam it, bake it, or nuke it in the microwave with some water.  When it's tender and cool enough to handle, just scoop the flesh out with a spoon.
This recipe calls for nutritional yeast which, for anyone not familiar with it, is something entirely different from brewer's yeast or baking yeast.  It's yellow, full of B vitamins and—there's no other way to say this: it looks like flakes of fish food.  Pick it up at your health food store—it may seem expensive at $12/pound, but since it weighs next-to-nothing (i.e. fish food), you can get a baggie-full for about a buck.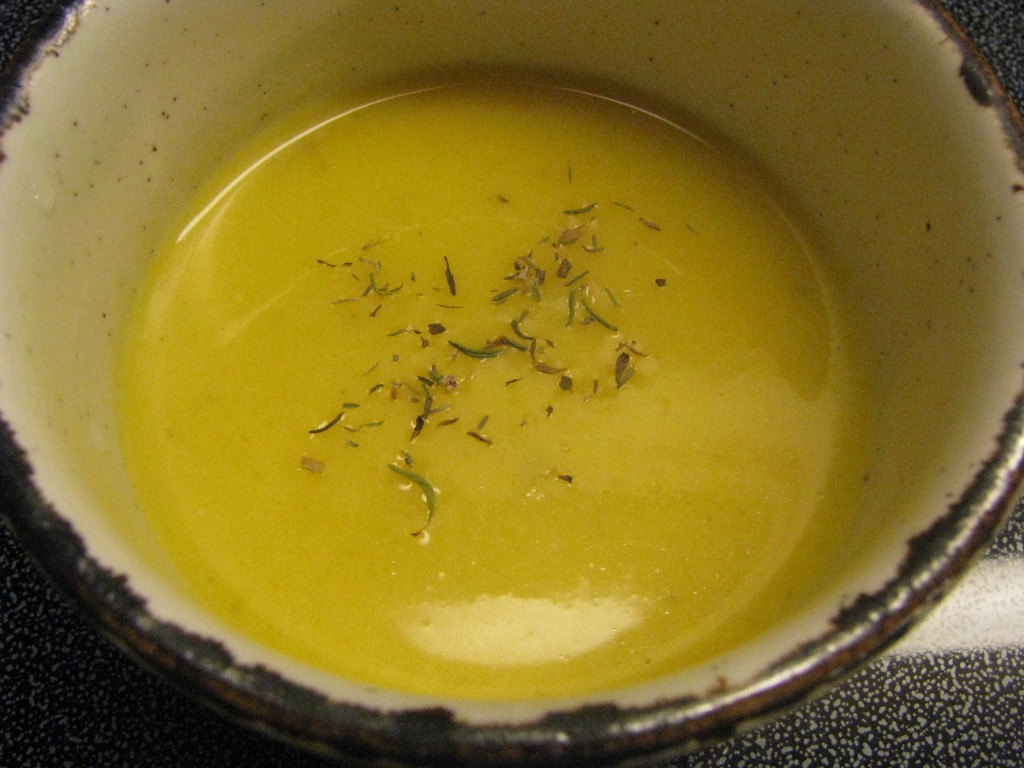 In this recipe I'd say it's worth it, but in all likelihood you probably wouldn't miss it if it wasn't there.  Just add more salt or maybe a splash of soy sauce to get that umami-thing.
Tassajara Winter Squash Soup with Thyme Recipe
from the
Tassajara Recipe Book
2 ½ pounds butternut and/or acorn squash (this equals about 8 cups chopped, and about 4 cups cooked flesh) 2 medium onions, diced 2 Tablespoons nutritional yeast 3  Tablespoons butter 4 cloves garlic, minced 4 cups water (more or less, depending on desired consistency) 1 teaspoon dried thyme ½ -1 cup half and half or cream, optional salt and pepper
In a soup pot over medium-low heat, melt the butter.  Add the onions and sauté for 1-2 minutes.  Add the nutritional yeast and stir to combine.  Continue sautéing until the onions are soft and translucent, stirring occasionally.  Add the garlic, squash, thyme, and water (if you have pre-cooked your squash, you may want to add less water—adjust for desired consistency).  Bring to a simmer, and cook until squash is tender, about 20 minutes. (If using pre-cooked squash, simmer at least 10-15 minutes to let the flavors meld).  Puree the soup using an immersion blender or in batches in a food processor.  Add cream if desired, and salt and pepper to taste.  Garnish with additional thyme leaves and serve hot.
This soup also freezes well.