I have been meaning to write up this whole wheat bread recipe for a year.
One.  Whole.  Year.
Other things I've been meaning to do for over a year also include: Throwing out underwear that are 10+ years old (you know, the ones where the elastic is no longer elastic and/or that have holes and/or pictures of bunnies and/or come up to my belly button); checking on my kombucha colony; and having my car serviced).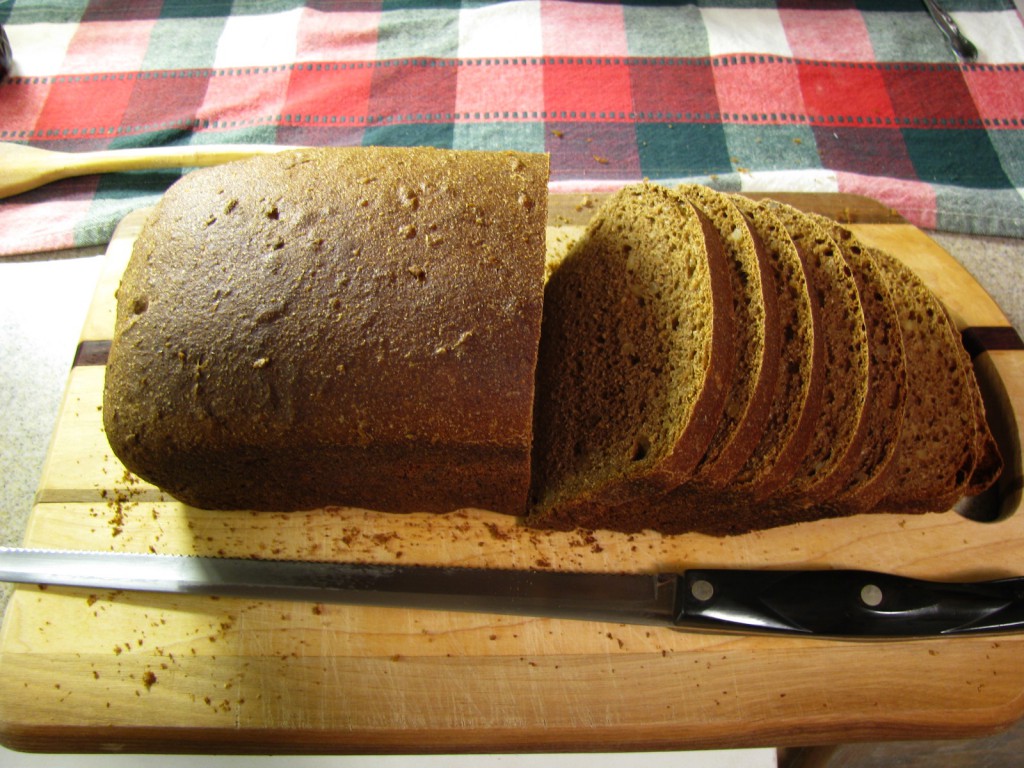 At least today I'm finally getting around to one of them.  (Sorry, Boyfriend, you are going to continue to have to look at the least sexy underwear in the world).
But before I tell you this bread recipe, I want to tell you about the bread paradox.
It is a well-known fact that homemade bread tastes better than store-bought.
Except in the case of whole-wheat.
With whole-wheat bread, usually the store-bought varieties taste better, as the homemade versions are either a) dense; b) dry; c) bitter; d) cardboard-like; or e) all of the above.
Which is sad, because if you are the type of person who wants to eat whole-wheat bread (i.e., health-aware), you would probably be likely to make your own due to the additives/preservatives/not 100% whole-grain-ness of the store-bought brands.
But…homemade whole-wheat bread tastes like cardboard.
Thus, the bread paradox.
That is, there was a paradox until this recipe came along.
Behold! A homemade, 100% whole-wheat sandwich loaf that is moist, soft, and slightly sweet.
You can make it in a bread machine, if you have one (in fact, I prefer using mine just to knead the dough), or by hand.
Everyone who's ever tried it has loved it (except perhaps my dad who, while he didn't dislike it, simply prefers White Bread).
In fact, my sister-in-law likes it so much that for Christmas now I usually give her 8 loaves of this bread (fyi, it keeps well in the freezer).
This recipe is originally from The King Arthur Flour Baker's Companion.
I had to decrease the amount of water a bit because the dough was just too loose and sticky, and instead of rising in the pan like a normal loaf, it kind of did this oozing-blob thing where it spread over and down the sides of the pan, making it mushroom-like, ugly, and impossible to remove after baking.
And no, it wasn't just me because I gave the original recipe to a friend of mine and she said the same exact mushroom-thing happened to hers, too.
It also wasn't rising as much as it should have, so I increased the yeast.
And now I'm in whole-wheat bread heaven.  This is the best whole-wheat bread recipe I've ever tried.  I promise.
100% Whole-Wheat Bread Recipe
1 1/3 cups water
3 Tablespoons olive oil
5 Tablespoons molasses (or honey or maple syrup)
3 ½ cups whole-wheat flour
¼ cup raw, unsalted sunflower seeds, chopped (or additional walnuts)
1/3 cup walnuts, chopped
1 ½ teaspoons salt
2 teaspoons yeast
In a large bowl or bread machine, mix together all ingredients until it forms a shaggy dough.  Let it rest for 20 minutes so the flour can absorb the liquids.
Knead the dough for 10 minutes (I use my bread machine on 'dough' setting for this, but a mixer or by hand also works) until the dough is smooth.  It may be a bit sticky, but should form a smooth ball.
Place the dough in a greased bowl, cover with a damp towel and let rise 1 hour.  Shape it into a loaf and put it in a greased bread pan.  Cover and let rise one hour or until it has risen 2 inches above the rim of the pan.
Bake at 350° for 25 minutes, then tent it lightly with aluminum foil and bake an additional 20 minutes.  Let cool on a wire rack before slicing.
(I like to slice my bread and store it in the freezer, taking out 1-2 pieces as needed.  This way it never gets stale or moldy.)