Trail mix is one of those things you never think about making but yet, whenever you have it you think to yourself, "This is really good!  I should make some to keep on hand."  But then you get distracted and forget about the trail mix until the next time it magically appears.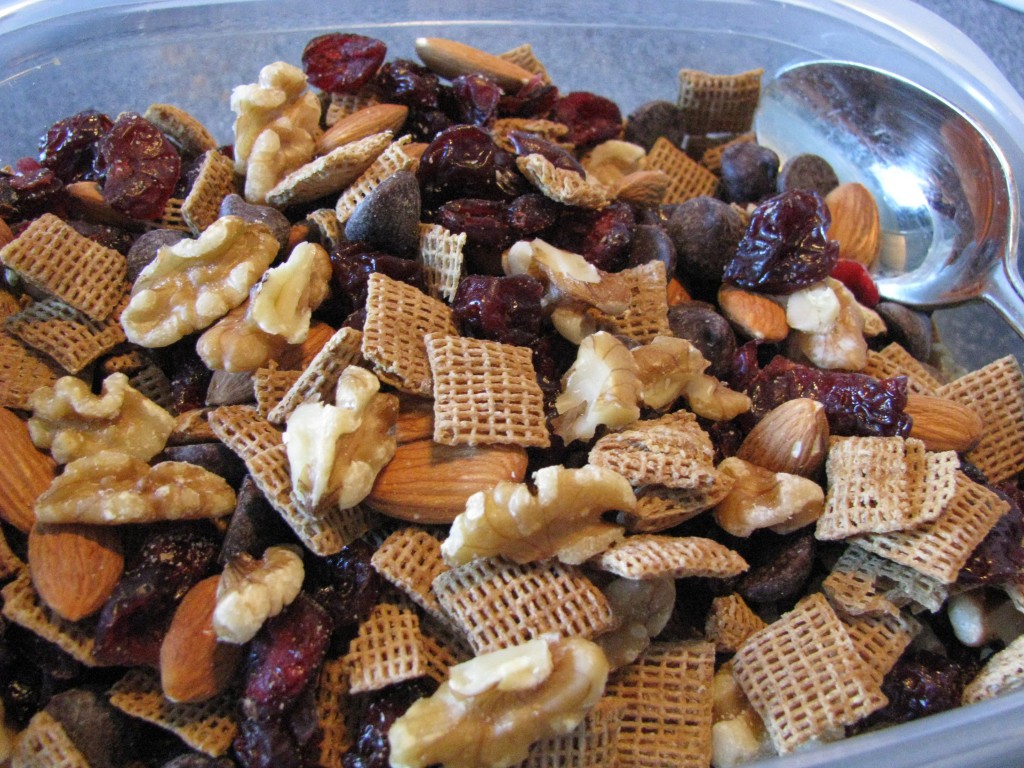 The wonderful thing about trail mix is that it is more than the sum of its parts.  Nuts, by themselves, are an okay snack.  Dried fruit, by itself, is a just-okay snack.  Chocolate, by itself—well, it's delicious, but not exactly a great energy-sustaining health food.  But mix the three together and holy crap!  It turns into an addictive, semi-healthy energy boost.
My mom used to make GORP and send it to me in college.  Though it was just equal parts raisins, peanuts, and M&Ms, it was always gone within a week.
I hadn't given a thought to trail mix for ages.
Until last week, that is, and the opening of the Mystery Tupperware.
The Mystery Tupperware has been in My Guy's fridge for as long as I've known him.
It was a mystery because, though it was in a clear plastic container, whatever was in it was wrapped up in brown waxed paper.
In an attempt to do some Fridge Organizing, I decided it was time for the Mystery Tupperware to go.
"What's in here?" I asked My Guy.
"I dunno, I think it's pecans or something.  One of the neighbors gave it to me."
Envisioning home-harvested pecans in their shells, I opened the Mystery Tupperware, prepared to dump its contents in the trash.
But lo and behold!  It was trail mix!
We devoured it in one sitting.
And since then, I've been reminded what an incredible thing trail mix is, and determined to have some on hand at all times.
Best-Ever Trail Mix
1 c. dried craisins 1 c. dried cherries 1 c. raw almonds 1 c. raw walnuts 1 c. chocolate chips 2 c. whole-wheat Chex ceral
Mix it all together.  Store in plastic bags or Tupperware.  Lasts nearly indefinitely, or at least until you eat it all.
Build Your Own Trail Mix
2 c. dried fruit, cut in bite-sized pieces if needed 2 c. nuts 2 c. cereal (Chex, cheerios, Kix, mini shredded wheat, etc.) 1 c. candy (M&Ms, chocolate chips, Reese's pieces, peanut-butter chips, etc.)
Mix it all together.  Eat.
Variations:
Banana-Nut Muffin Trail Mix
1 ½ cups dried banana chips 2/3 cup craisins or raisins 2 cups walnuts 1 cup honey-nut or banana-nut Cheerios or honey-nut Chex 1 cup Quaker oat squares cereal or Golden Grahams
1 cup cinnamon chips
Apple Pie Trail Mix
1 ½ cups dried apple slices 2/3 cup craisins or raisins 1 cup pecans 1 cup walnuts 1 cup apple-cinnamon or cinnamon burst Cheerios or cinnamon Chex 1 cup Quaker oat squares cereal or Golden Grahams
1 cup crystallized ginger chunks
or
butterscotch chips 1/4 teaspoon apple pie spice
Chocolate-Cherry-Malt Trail Mix
2 cups dried cherries 2 cups pecans or walnuts 2 cups chocolate Cheerios or chocolate Chex 1 cup malted milk balls, coarsely chopped
Tropical Isle Trail Mix
1 cup dried banana chips 1 cup dried pineapple or mango 1 cup cashews 1 cup macadamia nuts or shelled pistachios 1 cup honey-nut Cheerios or honey-nut Chex 1 cup wheat chex or Quaker oat squares ½ cup dried coconut flakes 2/3 cup crystallized ginger chunks
Fluffernutter Trail Mix
1 cup dried banana chips 1 cup Craisins or dried cherries 2 cups peanuts 1 cup wheat chex 1 cup honey-nut Cheerios or honey-nut Chex 1 cup mini marshmallows
Chocolate Peanut-Butter Cup Trail Mix
1 cup raisins 1 cup dried cherries or Craisins 1 cup cashews 1 cup peanuts 1 cup cocoa puffs 1 cup chocolate Chex or chocolate Cheerios ½ cup Reese's pieces or peanut-butter chips ½ cup M&Ms or chocolate chips