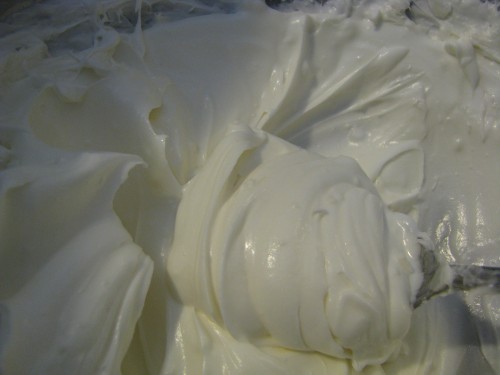 In the kitchen I have a lovely, oversized wooden cutting board that my brother gave us as a wedding present.  It lives on the counter next to the stove, where it is used practically every day, and washed with some frequency.  People who know about these things say that you ought to oil your wooden cutting boards to keep them in tip-top shape (although my mother disproves this theory: she has never once oiled the wooden cutting board that she's had for as long as I can remember (which is at least 25 years) and the cutting board still works–and looks–just fine.)
In spite of this, every now and then I do still oil my cutting board–after one too many washes, and dozens of onions chopped, it will have two telltale pale areas where we have done our chopping, and the whole board will look dull and lackluster.  Depending on my mood, I'll either drizzle olive oil over the whole thing, or chisel out some coconut oil, and rub it into the board like a salve.  Either way, afterwards the board is restored to its original lovely luster, and my hands are soft and supple from the treatment.  In case you didn't know, coconut and olive oils are also good for the skin.
Anyway, 'tis the season for dry skin and chapped knuckles, so here's a recipe for an easy body butter you can make at home.  Essentially it's this: equal parts shea butter & coconut oil, melted together, then cooled and whipped with an electric mixer until it is—well, like whipped cream.  You can get shea butter from your local co-op (at Tidal Creek it's in a plastic bucket by the bulk foods section; you scoop out as much as you want with an ice-cream scoop).  You can add your favorite essential oil, for fragrance, if desired.
I make a big batch of it for Christmas presents, usually with lavender, and even the small amount that's left on the whisk is enough to keep my dishpan-hands hydrated for days.
A small note of caution: much like some lotions, it's going to take a few minutes to thoroughly absorb into your skin, so it's probably best not to use this immediately prior to, say, competing in a knife-throwing contest, or some such.  And also, a little goes a long way (this is a good thing).
And did I mention, it's only two ingredients, both of which you can (hopefully) pronounce (depending on whether or not english is your first language and you know how to pronounce 'shea').
Shea Butter & Coconut Oil Whipped Body Butter
1 cup shea butter
1 cup coconut oil
~10-15 drops essential oil, if desired
Melt together the shea butter and coconut oil.  I usually use my microwave, and since both ingredients are solid (and therefore difficult to measure) I do as follows: in a 2-cup (or larger) measuring cup, spoon in shea butter until it is nearly to the 2-cup mark (do not try to pack it tightly).  Put it in the microwave and microwave on high at 30-second intervals until melted.  When melted, it should probably measure one cup, give or take (it's not critical to get perfect ratios here, btw).  Spoon in coconut oil until it reaches the 2-cup mark, and microwave until everything is melted together.
Pour the mixture into whatever bowl you will be mixing it in (I use my stand-mixer), and put the bowl in the refrigerator until the mixture has solidified, usually 1-2 hours.  Using the whisk attachment (or beaters), mix on medium speed several minutes until mixture has the appearance of whipped cream.  You may need to scrape the sides of your bowl to make sure everything gets incorporated.  Add essential oil, if needed, then transfer to an airtight container, and use as needed.
It's going to have the look/consistency of whipped cream/marshmallow fluff, so try to prevent yourself from licking the spoon.