I have a recipe for a raw blueberry sauce to tell you about (so simple & fresh; similar to this) but first I have to tell you about a goose, since it's because of the goose that we became the lucky recipients of a gallon(!) of freshly-picked blueberries.
One of our friends lives in Lake Waccamaw.  Her house is on the lake and it is full of windows and quiet, peaceful views.  And she has a pet goose that lives in the backyard.
Though, it is not really her 'pet,' per se, it is maybe more of a mascot?  Or maybe it is just a creature of habit who enjoyed nesting at the base of her tree, and who our friend took pity on and brought her fresh bowls of water and scraps of bread while she was brooding so she wouldn't starve.
Anyway, the goose became friendly with her, and began visiting her back door on a daily basis, quietly honking to request her bread rations, and—occasionally—allowing herself to be petted in exchange for said bread rations (whole-wheat, preferably; she does not care for white).
The goose has had sort of a sad life, I'm sorry to tell you.  One spring she sat on her nest for weeks and weeks and weeks and weeks, and though she grew weaker and skinnier, nothing happened within the nest.  Her mate kept a watchful eye on her from the water, never straying more than 50 feet away, but still; it became clear that nothing was going to hatch from her nest, though she would keep sitting there until she died.
So Andy and his friend took pity on her; they picked her up and carried her to the water, where she was met with much honking and excitement by her mate.  They looked in her nest only to find…a golf ball.  The goose was trying to hatch a golf ball.
And then the goose's mate died. (Andy's theory is that someone shot him because they were tired of his honking.  He may have also used the word 'redneck' to describe that someone, but I am not here to name-call).
The goose was sad, you guys, to have lost her mate, and maybe also a little bereft to not have been able to hatch her golf ball.  She swam around by herself honking, calling for her lost mate and generally looking very lonely.  There is a children's book story here, I am sure of it.
Later that summer she ended up adopting a small flock of ducklings whose mother had died, and everyone was happy: she herded the little ducklings around and honked at them, and they swam behind her in the lake.  And it was so freaking cute!  I can't even tell you, but it was.  The ducklings were trying to be a goose, and the goose was finally a mom, and she had purpose and companionship.  I told you there was a children's book story here!
The ducklings grew into ducks, and still they stayed a companionable flock: after all, how much difference is there between a duck and a goose?  They both swim, they both have feathers and can fly if they have to.
Well, things were fine, and then: one morning our friend woke up to find the goose had a broken wing; bent somehow and twisted backwards, the bird in distress.
So she did what any mascot-caretaker would do: she took the goose to the wildlife rehabilitator.
I'm really regretting that I didn't ask for more details, because how does one capture and transport a 30-lb. injured goose 50 miles in a car without a crate?, and I am partly imagining the scene from Forget Paris with the pigeon, but mostly imagining a lot of distraught honking and possibly only minor hair-disheveling.
There was good news and bad news from the wildlife rehabilitator: The good news was, the goose would survive.  The bad news was that they might have to amputate her wing, and, if they did, they would likely release her to a nearby farm that had a pond and a few other aquatic fowl.  Which is not so terrible, really, if you are a goose, but it is a little saddening if the goose has been your friendly mascot for several years and have grown quite fond of her presence, and her honking personality and requests for bread.
To console herself, and because it was nearby, our friend went blueberry-picking.
And I think that goose must have meant a lot to her, or maybe she just had a lot of time on her hands, or she is a really fast blueberry-picker, but she picked a lot of blueberries.
She showed up at our house with a gallon bucket-full, saying, these are for you, and I said, Are you sure?  Did you save some for yourself? and she said Oh yes, I'm actually going to stop by and visit all my aunts and give some to them, too.
So I guess she is a very fast blueberry-picker, or maybe that goose kind of meant a lot to her, or maybe a little of both.
We have several of our own, by the way: blueberry plants. (Though: I really want a pet goose now, too).
Andy & I bought a foreclosure and, while hacking away at some overgrown shrubs, we found out that it came with several mature blueberry plants; six-foot tall shrubs drooping with berries and producing just fine in spite of a stranglehold of vines.
What I guess I'm trying to say is: we've been swimming in blueberries, which is a lucky fate indeed; twice a week I harvest a half-basketful and freeze them for smoothies.
On top of that, I've found a copse of them in the woods; they are wild berries, small and with seeds that crunch beneath your teeth, but a flavor oh-so-much-greater, a flavor like the truest-blue that a blueberry could ever be.
I've been making things with our windfall.  Besides smoothies there have been whole-wheat muffins; a pie similar to this but with added cream cheese; and a blueberry sauce, to serve atop ice cream or shortcake, or, I bet, delicious over a slab of toasted pound cake, still warm from the oven.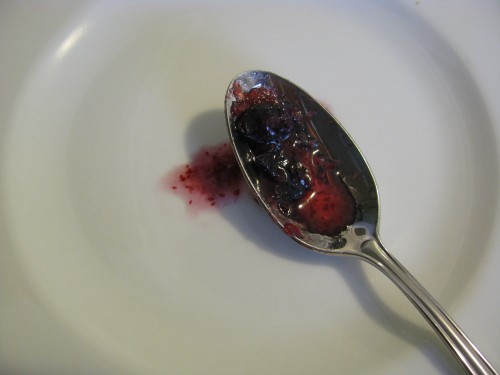 Blueberry Sauce Recipe
adapted from Lee Bailey's 'Soup Meals'
The original recipe was for a blackberry buckle with blackberry sauce; I subbed blueberries and the buckle ended up being nothing special (sort of dry & crumbly, like a coffee cake), but the sauce is a keeper, and easy, too.  I reduced the sugar as it seemed too sweet for me; adjust to your personal preference.
1 cup fresh blueberries
5 Tablespoons powdered sugar
1 Tablespoon lemon juice
Mash all ingredients together or puree with a blender or food processor.  Refrigerate until ready to serve.